Readers' View
Arrested over the Sean Bell verdict
May 13, 2008
WE WERE arrested on May 7 as an act of civil disobedience protesting the acquittal of the cops who murdered Sean Bell.
Rev. Al Sharpton and the National Action Network, who are calling for federal civil rights charges in Bell's killing, called for protest and civil disobedience in six locations throughout New York City. Along with scores of other people--and hundreds more throughout the city--we sat down in front of the entrance to the Triborough Bridge in Manhattan in the afternoon, were arrested for "disorderly conduct" and were released around 2 a.m. the next morning.
Both in the demonstration surrounding the arrests and in the holding cells where we were taken, there was an angry, defiant and confident energy. Chants such as "No justice, no peace!" and "We are all Sean Bell!" continued inside the police station--though the second half of the rhyme, "NYPD go to hell!", was discretely omitted. Whenever a new prisoner would enter or leave an area after completing a stage of processing, all the rest would throw a fist in the air and applaud and cheer, "Freedom fighter!"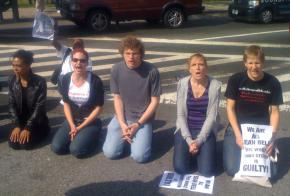 The papers reported just over 200 arrests, but in the police station, the number was given as 300 from Manhattan alone. Participants were of all ages, races and genders, though the majority were Black residents of the New York neighborhoods that face the brunt of police brutality. Sharpton, Charles Barron and other figures in New York Black politics, as well as Bell's fiancée Nicole Paultre-Bell, other family members and shooting survivors Trent Benefield and Joseph Guzman, joined the civil disobedience.
The police, in an uncanny fashion, acted very congenial. They were, no doubt, directed to do so in order to de-escalate any tension, but their attitudes were a marked contrast to the NYPD's usual aggressive attitude in communities of color. It is worth noting that, in the first three months of this year alone, there were over 145,000 stop-and-frisk procedures, the majority of those targeted at Blacks and Latinos.
Arrestees from across Manhattan were all shipped to One Police Plaza. Women were kept isolated in a number of smaller cells. Men, however, were gathered together in a single holding cell, where a speak-out developed, which lasted for hours as people shared their thoughts and experiences.
A wide range of politics was expressed among the arrestees, with many careful to note that they were "against police murder, not against the police," while others were consciously opposed to the whole institution. While many speakers placed the blame for New York's string of police shootings on racism and other structural factors, the problematic idea that the responsibility lies within Black communities to "shape up" in order to gain "respectability" and avoid this kind of trouble was also widespread.
But despite the political diversity, everyone was clear that we share a commitment to see the struggle through, and to keep up the protests as long as it takes to get justice.
David Judd and Rosa Haire, New York City