, and
Kingsbridge strikers continuing the fight
August 20, 2008
IN AUGUST, strikers at the Kingsbridge Heights Rehabilitation and Care Center enjoyed two well-earned legal victories: the first on August 7, came when New York State Attorney General Andrew Cuomo announced the arrest of President and CEO Helen Sieger for failing to provide hundreds of employees workers' compensation for over a year. Sieger was the first person arrested in New York State under a new law that makes it a felony for an employer to fail to provide this insurance for employees. She was ordered to pay a $38,000 fine.
Secondly, on August 14, a federal injunction was issued together with an 80-page opinion ordering Sieger to comply with 11 demands, most importantly, that she reinstate with health benefits of the 220 workers who have been on strike since February 20.
The injunction resulted from an investigation by the National Labor Relations Board (NLRB) into charges of unfair labor practices filed by the union, Service Employees International Union (SEIU) 1199/United Health Care Workers East. Pending the final disposition of the matter by the NLRB, Sieger is obligated to provide the union with the information it requested months ago and to "treat the striking bargaining unit employees as unfair labor practice strikers."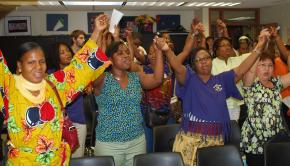 An appeal of the injunction by Sieger is likely. Whether reinstatement continues pending appeal will depend on the courts.
On another legal front, Sieger is fighting an eviction notice by the nursing home landlords--two of her siblings. Legal details are hard to come by, because Sieger hires and fires legal teams with abandon, jettisoning counsel that fails to win her unfair demands, or dares to send her a bill for services rendered.
---
WHILE SEIU 1199 has been fighting in the courts, strikers and local activists have taken the grassroots initiative by organizing two solidarity events for workers: a screening of the movie Sicko on August 1 at a local community center, and a public meeting on health care on August 14.
The Sicko screening began with the strikers singing their original songs of protest ("Down! Down! Down! She's going down. Helen Sieger is going down!"), as well as the labor evergreen "We are the union."
Strikers still mourning the death by asthma of fellow striker Audrey Smith-Campbell audibly gasped during the scene in Sicko in which a woman weeps to learn that the inhalers priced at $120 in the U.S. are less than $5 in Cuba.
The public meeting could not have been better timed, coming on the heels of the injunction and arrest of Helen Sieger. The panel discussion featured strikers Paulette Cameron and union delegate Kervin Campbell, as well as International Socialist Organization member and nurse Sean Petty, and Ajamu Sankofa, a founding member of the Private Health Insurance Must Go Coalition.
Cameron, a 17-year employee of the Kingsbridge nursing home, and a composer and lyricist of strikers' protest songs, spoke about Helen Sieger's role in the death of her beloved co-worker Audrey Campbell. "Helen Sieger is a murderer," she said. "Why? Because she snatched [away] Audrey's health benefits. Since Audrey's death, [we strikers] have grown angrier."
"Every time you tell my co-worker [that he or she is suspended], I'm here to challenge it," said Kervin Campbell, who described his role in fighting unfair suspensions.
Ajamu Sankofa spoke about the necessity of a single-payer health care system, and an upcoming demonstration for health care. "If we win this battle, working people will not have to bargain their salaries. It will open a wedge to fight other battles."
Sean Petty who works as a pediatric emergency care nurse, spoke about the need to end the profit motive in health care, by way of making it a system based on human need. "It's going to be a massive fight, and the health care industry has a lot of weapons to use against us. The strikers at Kingsbridge show that you can fight back and not lose."
While the battle for health care remains, it's clear that victory lies through local struggles such as the strike at Kingsbridge, which have the power to challenge union strategy, such as 1199's decision in the Kingsbridge case to tolerate scab labor. Struggles like the one of Kingsbridge workers can help the union movement engage with local health care activists in forming a broad-based movement for health care for all.
As Paulette Cameron put it in a warning to bosses like Sieger: "The union is a lion--and the lion will devour you."