and
SEIU's kangaroo court
October 3, 2008
Larry Bradshaw and Brian Cruz, members of SEIU Local 1021, report on the struggle by West Coast health care workers to resist a takeover by SEIU President Andrew Stern.
THE CONFLICT between Service Employees International Union (SEIU) President Andy Stern and United Healthcare Workers-West (UHW), SEIU's third-largest unit, escalated in late September as Stern's operatives held a two-day hearing over whether to place the 150,000-member UHW in "trusteeship"--that is, under the control of the SEIU International.
Stern's allies convened the hearing in San Mateo, Calif., on September 26 and 27. This procedure is the first step of the rigged process that will determine the fate of UHW's 140,000 members. Stern wants to strip the local of its democratically elected officers, governing bodies, bargaining teams and support staff, and seize direct control of UHW.
In response, more than 8,000 angry UHW members from across California descended on San Mateo to protest what they called Stern's "kangaroo court." The nurses, nursing assistants and home care workers who make up UHW's membership picketed, chanted and noisily observed the proceedings.
The trusteeship hearing in San Mateo was like no other in recent union history. Typically, such affairs are held out of the public view. But UHW, which has been campaigning against Stern's secret backroom deals with employers, wasn't about to let the trusteeship hearings be secreted away.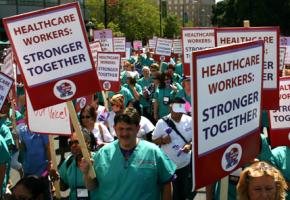 As a result, last weekend's hearings had to be held in an auditorium with a capacity of 1,400--and fitted with TV monitors to broadcast the hearings to rank-and-file workers, many of whom had taken the day off work to attend.
The audience jeered and applauded, hooted and laughed as the lawyers on stage shifted uncomfortably in their chairs. It was apparent that Stern's staffers longed to be out of the limelight. When the UHW members got bored of the proceedings, they held teach-ins on union democracy.
---
STERN'S DRIVE to take control of UHW is his latest clash with UHW President Sal Rosselli, a former close ally of Stern who became disenchanted with the SEIU International's strategy of "partnership" with employers and Stern's reorganization of the union, through merging locals into huge regional bureaucracies and appointing his allies to run them.
Rosselli resigned from the SEIU International Executive Board in February and was subsequently ousted by Stern as head of SEIU's California State Council. Since then, Rosselli has aligned himself with union reformers; he led a challenge to Stern's forces at SEIU's convention.
As the threat of trusteeship has grown, Rosselli has mobilized UHW members to fight back, most recently at a rank-and-file conference September 6 that stressed union democracy. This fight by UHW members forced the trusteeship hearings to be open and public.
Added to this was pressure from unionists outside SEIU, scholars and artists who publicly opposed the trusteeship. As a result, Stern was forced to go outside SEIU to pick a "neutral" hearing officer.
Chosen to preside over the hearing was Ray Marshall, a former labor secretary in the Jimmy Carter administration. However, UHW, noting Marshall's ties to lawyers working for SEIU International, questioned his impartiality. Also, Stern initially restricted the hearing to two days, despite the demand of hundreds of UHW rank and filers that they be allowed to give testimony. The two-day limit effectively excluded the voices of the rank-and-file members.
Most of the hearing's time was occupied by lawyers' arguments, and by the questioning and cross-examination of witnesses. Only during the last two-and-a-half hours were 70 UHW members given a brief opportunity to speak to the hearing officer.
UHW had initially lobbied to postpone the entire proceedings until after the November elections, arguing that if the labor movement is serious about its stated commitment to elect Democrats, SEIU should devote resources to that, rather than an internal trusteeship hearing. Finally, in San Mateo, the hearing officer--responding to the angry mood of the audience--agreed to schedule a second hearing sometime after November 4.
The continuation of the hearing is a victory for UHW--but a limited one. Stern's staffers refused to allow rank-and-file members of other SEIU locals to testify in support of UHW. And now Stern appears to be hedging his bets in case his "neutral" third party rules against a trusteeship.
Ultimately, the decision of whether or not UHW is put under trusteeship is up to SEIU's International Executive Board--a body that currently is composed solely of members of Stern's "unity slate" elected at SEIU's controversial convention in Puerto Rico this past summer.
The hearings in San Mateo were merely a means to obtain a rubber stamp on what is a foregone conclusion for the SEIU International: placing under trusteeship the local in SEIU that is at the forefront of democratic reform.
---
THE SEIU International seems determined to defeat UHW, even if it means a war of attrition, because it's clear that UHW's members and leaders won't stop fighting back, even if a trusteeship order comes down. Already, SEIU is getting a black eye in the media and the labor movement--not only because of the attempt to crush the reformers in UHW, but in connection with corruption scandals in SEIU locals run by key Stern allies in California and Michigan.
As a result, reformers in other SEIU locals are challenging Stern's hypocrisy. Dissident local officers and rank-and-file members have set up SEIU Member Activists for Reform Today (SMART), a reform group that was able to make its voice heard at the convention. More recently, members of the SEIU International staff are reportedly refusing to participate in the trusteeship charade.
UHW, on the other hand, has become a focus for progressives in favor of the democratic reform of the labor movement. The union has also won a devotion from its members that no back-room deal could ever achieve.
Unfortunately, the stakes may be so high that the International will see no choice except to continue with the trusteeship. If successful, this would be a huge blow for the reform movement within SEIU and the labor movement generally.
Nevertheless, the genie is out of the bottle. SEIU now has to deal with thousands of member activists in its ranks who believe that union democracy is essential for union strength. Silencing them will be impossible.
In any case, Stern, who led the Change to Win union coalition out of the AFL-CIO, can no longer pose as the labor leader with the strategy to rebuild the labor movement.
But there is an opportunity for SEIU reformers to provide a different vision of how we can rebuild the labor movement. This is especially urgent as the economic crisis deepens and employer partnerships prove woefully inadequate for fulfilling ordinary working people's needs. The defense of UHW is an important step in that effort.