and
Why did the FBI go after Chuck Turner?
December 17, 2008
BOSTON'S RACIST politics-as-usual is in the limelight with the recent arrest of local left-wing Black politician Chuck Turner, stirring anger among Black and Latino community members and activists.
Turner, a member of the Boston City Council, was arrested on November 21 and accused of taking $1,000 in bribes from a local Black businessman, Ron Wilburn, who was acting as an FBI informant in seeking a liquor license for a club in a predominantly Black neighborhood.
Turner is known for his four-decade-long career of standing up against gentrification and racism, for immigrant rights, and for peace and justice at home and abroad. Turner's arrest occurred almost a month after the arrest of former state Sen. Diane Wilkerson, Massachusetts' sole Black state senator, who is also accused of taking bribes from the same informant.
Turner has not commented on the specifics of the charges, other than to insist that he is innocent--both Turner and Wilkerson pleaded not guilty. Photos of Wilkerson and Turner allegedly accepting money from the informant have been leaked to the media.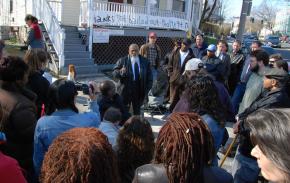 The media attack on Turner has been a main source of the public outcry. Images of Turner being led away from City Hall in handcuffs surrounded by several police, as well as the photo of him supposedly accepting a bribe, were plastered on the news before Turner was even indicted.
With the media presenting Turner as presumed guilty and City Council President Maureen Feeney attempting to strip him of his committee assignments--the maneuver failed when Turner confronted Feeney and other council members, with supporters rallying outside--many people have concluded that the FBI probe is about getting rid of an outspoken activist, not about corruption.
As Turner said in an interview, "They're really going after a growing movement of people speaking out for justice and peace, at home and peace abroad. [City Hall] is hoping to take the spirit of the movement away."
---
THE UPROAR over Turner's arrest has exposed the double standards that exist for Black radical politicians in a city infamous for the corruption of its white Democratic Party machine.
For example, Salvatore DiMasi, the majority leader in the state House, is caught up in multiple scandals involving cronyism, but he was neither arrested nor indicted, and he certainly isn't being smeared by the media. Then there's James Marzilli, a state senator who has been facing accusations of sexual assault since April, but wasn't pressured to resign. He only did so last month after Wilkerson's arrest.
Turner's case also points out the inherent racism involved in the granting of liquor licenses in Boston. According to the Boston Globe, Wilburn, the FBI informant, had a hard time getting a license for his club in a predominantly Black neighborhood because of what he called "favoritism, cronyism, classism" in the licensing process.
The irony of the FBI probing Turner and Wilkerson is that it was recently revealed that 65 percent of liquor licenses in 2006 were handed out to the clients of a single politically connected law firm--which in the past five years alone donated $112,075 to local politicians, including Boston Mayor Thomas Menino and council member John Connolly, whose father is on the Boston Licensing Board. That firm hasn't been accused of any wrongdoing.
Turner's arrest and the continuing media campaign against him has added fuel to growing racial tensions in the city. Since his arrest, hundreds of people, mainly Black and Latino, rallied to Turner's defense at a number of events--more than 300 outside City Hall when the City Council tried to strip him of his committee assignments; more than 200 in the neighborhood he represents; and dozens more outside court appearances.
"I live on Chuck Turner's street," said Jacob Bor at one of the rallies for Turner, "and when I was coming home Saturday night, there was a Channel 7 News truck parked right outside of his house. They're like vultures. They never cover any of the issues Chuck works tirelessly for, but when they can paint him in a bad light, that's what they cover."
Turner and his supporters believe they won an important first round by forcing Feeney and the City Council to back down in last month's confrontation. Now they are preparing to respond to further moves against Turner--and to stand up against all attacks on communities of color and activists in Boston.