Ecuador's rising struggle
December 18, 2008
Emmanuel Santos places Ecuador's decision to default on a portion of its foreign debt in the context of rising social struggles.
ECUADOR'S PARTIAL moratorium on repayment of its foreign debt has highlighted the political and social struggles in that country as its government pursues a nationalist economic agenda.
On December 12, President Rafael Correa declared Ecuador in default on $30.6 million in interest payments on its foreign debt due December 15. Then, on December 14, Correa announced another default on a second set of bonds.
This is Ecuador's second default on foreign debt in 10 years. The cancellation of payments affects Global Bonus bonds due in 2012, 2015 and 2030. These bonds are part of $10 billion owed by Ecuador to international lenders.
Global bonds originated as part of a restructuring package put in place by the International Monetary Fund (IMF) after the collapse of the economy in 1999-2000. The crisis, which led to massive migration and further impoverishment, was triggered by a sharp drop in oil prices, hyperinflation and the dollarization of the economy. A short-lived war with Peru in 1995 over a territorial dispute also contributed to the crisis.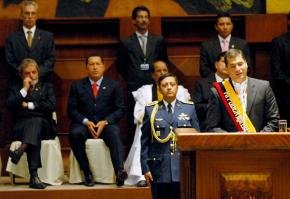 Correa reached a decision to cancel payments after a debt commission found gross irregularities in the debt negotiation process from 1976 to 2006. According to the debt audit report issued in November, debt negotiations from that period were plagued with fraud and only benefited international lenders by making Ecuador borrow money just to pay its debt. The report also found that Ecuador was forced to pay high interest rates and then overpay that interest.
The audit report is the first of its kind in the region. It recommends that the country default on $3.9 billion of its foreign debt. "The final report of 172 pages is a thorough technical and legal analysis that shows one of the most sinister faces of three decades of neoliberal policies," wrote journalist and activist Eduardo Tamayo G. on the Latin America in Movement web site, referring to the market-oriented policies of Correa's predecessors.
But the debt audit isn't the final word on the corrupt practices and negative ramifications of debt negotiations conducted by past governments. That's because the audit didn't examine the period prior to the 1970s, when U.S. economic policies paved the way for Ecuador's economic crisis.
Also missing from the report is information that could implicate high military officials and politicians in debt embezzlement and fraud. Both the National Defense Board and Jaime Nebot, the right wing mayor of Guayaquil, adamantly refused to give information to the debt commission.
Furthermore, Correa's move, which follows the approval of a progressive, new constitution, doesn't amount to a moratorium. Rather, his government seeks a debt restructuring plan that can put the country in a better position to negotiate with outside lenders.
Correa also believes that the country should honor debt that is "legal" and isn't tainted with corruption. Indeed, press reports circulating in Ecuador indicate that the government might buy out some of its foreign debt.
Ecuador's left favors a bolder approach. In recent years, trade unions and social movements have led the fight to cancel the foreign debt. Activists point out that the national budget allocates more funds to debt payment than to other areas such as health care, education and agricultural development. Debt payment has had a negative impact on the environment. It has also lowered ordinary people's living standards.
The most affected have been indigenous people and Afro-Ecuadorians, two of the most discriminated sectors of the population, who have played a leading role in the fight against neoliberal policies.
---
IN THE 1970s, Ecuador became heavily indebted when a U.S.-backed military dictatorship, which repressed the left and the labor movement and slashed public spending, opened up the country to multinational corporations. By the 1980s, the country ranked sixth in the list of largest debtor countries in the region in terms of the size of its gross domestic product (GDP).
The audit is the first serious effort by an Ecuadorian government to reverse that trend. Thus, on November 21, Correa's government announced an international lawsuit to halt payments on a $320 million loan owed to Brazil's National Development Bank (BNDES). According to Ecuadorian investigators, the previous government violated the law in contract negotiations involving a public works projects built by a Brazilian construction firm.
Brazil's center-left government reacted angrily to this decision, recalling its ambassador from Ecuador. As an emerging regional power, Brazil fears a repeat of recent nationalizations in Bolivia that undermined Brazilian oil interests. Correa apparently reacted to the pressure: Ecuador's foreign minister resigned, seemingly as a result of this conflict.
On the other hand, social movements in Ecuador and throughout Latin America welcomed Correa's stance against the Brazilian bank and applauded his decision to declare the country in default on illegitimate debts. And the example could spread--Paraguay's new center-left president, Fernando Lugo, has said that his country would consider an audit of bilateral debt owed to Brazil and Argentina.
For Ecuador, the question is how far Correa is willing to push in this direction. He aims to carry out a developmentalist project by investing in education and health care while building alliances with emerging powers to shake off the country's economic dependency on the U.S. and Europe. For example, Ecuador has already signed bilateral trade agreements with Venezuela and Iran. Correa also intends to use oil revenues from PetroEcuador, the state-owned oil company, to carry out social reforms.
These policies mark a break from the past, when Ecuadorian politicians used oil revenues to enrich themselves while giving free reign to foreign multinationals to extract resources.
Since the late 1990s, mass movements rooted in the indigenous community have repeatedly mobilized against free-market policies and trade deals, forcing several presidents from office. The 2007 election of Correa, who owes his rise largely to those social movements, marked a shift to the left in Ecuadorian politics.
There are, however, growing tensions between Correa and the left-wing social movements. One sign of this is the president's attitude to the corrupt and repressive military-dominated governments of the past.
In 2007, the Correa government formed a truth commission to look into state repression carried out between 1984 and 1988 under the U.S.-backed right wing regime of former strongman Leon Febres Cordero.
Unfortunately, Cordero, who died on December 15, won't be prosecuted for the murder of hundreds of people and his role in impoverishing the country by implementing neoliberal policies. Yet Correa declared three days of mourning for Cordero, a move that revealed his more conservative side.
---
A MORE serious conflict is developing over government environmental policies that benefit mining companies. To crack down on anti-mining protests, Correa has ordered the use of brutal military force, a move bitterly condemned by the social movements.
Even Correa own coalition, Alianza País, is having internal contradictions. Recently, he issued a warning by declaring that he will dissolve the party if more internal infighting continues. He also took the opportunity to define his political project as "an ideological project of the nationalist left."
But Correa's nationalism is in opposition to indigenous people's conception of their own nation, one that stretches across national boundaries from the Amazon to the Andean region. To the extent that indigenous people assert their historic claims to their lands, they are seen as a political threat by both multinational corporations and Correa.
The stakes in this conflict were raised on October 12--Columbus Day, traditionally seen as day of resistance by the indigenous peoples of the Americas. In neighboring Colombia, indigenous groups staged a levantamiento (uprising) to protest government repression and demand more cultural and political rights. The uprising in Colombia inspired indigenous people and their allies throughout the region--including in Ecuador.
Thus, on October 13, the Confederation of Indigenous Nationalities of Ecuador (CONAIE) announced that it would launch a levantamiento in the Amazon region unless the government expels oil and mining companies that are destroying biodiversity in the Shuar and Saraguro territories.
Popular resistance took shape on other fronts as well. On November 17, thousands of indigenous people, Afro-Ecuadorians and peasants demonstrated across the country to protest Correa's new proposed laws that would allow mining companies greater access to land and open the way to the privatization of water. The demonstrations were organized by CONAIE and other grassroots organizations, which have criticized Correa for not consulting the social and political movements about these potentially environmentally destructive measures.
CONAIE's actions are giving confidence to ordinary people throughout the country. On November 19, some 10,000 indigenous people and their allies staged another march to protest the proposed new laws. CONAIE, which organized the march, is proposing its own Law of Biodiversity as an alternative to the government's neoliberal laws.
Labor struggles in Ecuador are also heating up. On October 17, teachers from the National Union of Educators (UNE) marched to demand a salary increase and protest a new decree by the minister of education that will eliminate an additional benefit retirement fund for state employees. Meanwhile, the Confederation of Ecuadorian Workers (CTE) is demanding a 100 percent salary increase to cope with inflation as the government prepares to set wage increases that will take effect in January 2009.
This rise in class struggle has also increased the momentum to demand cancellation of all of Ecuador's foreign debt. So far, Correa has refused to consider this step. Yet even Ecuador's recent partial default on the foreign debt creates an opening for people all over the world to organize and fight for the cancellation of illegitimate foreign debt in their own countries.