Marching against cuts in NYC
December 18, 2008
NEW YORK--Despite a steady snow and looming finals, some 300 students, faculty and supporters gathered outside Gov. David Paterson's New York City office December 16 to protest budget cuts and tuition hikes at the City University of New York (CUNY).
The demonstration was lively, with chants of "Tuition hikes, we say no. Raise the taxes on the CEOs" and "Bail out the students, not the banks," plus a performance from the Rude Mechanical Orchestra.
Members of the Hunter Student Union, Professional Staff Congress, Campus Antiwar Network, International Socialist Organization and other groups circulated through the crowd, gathering signatures for petitions and spreading the word about upcoming meetings and protests. Protesters were angry about Paterson's proposed soda tax coming at the same time as across-the-board budget cuts--effectively, a double burden on the working class.
After a brief speak-out, most participants marched through midtown Manhattan chanting "Tax the rich!"--past business commuters on their way to Grand Central Station and a Bank of America branch, where, through the windows, we could see a cocktail party in progress, complete with champagne.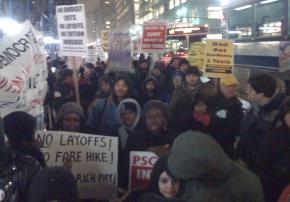 The march reached the headquarters of the Metropolitan Transportation Authority to protest proposed fare hikes of 23 percent--raising the base fare for a subway or bus ride to $2.50 and a monthly pass to $104.
Transit workers, students and others participated in a speak-out against the citywide cuts. Maria Arettines, a Hunter student and activist with the Hunter Student Union, spoke about the crisis at CUNY. She told the crowd that one in 10 New Yorkers is a CUNY student or worker, that half of CUNY students live below the poverty line, and that CUNY's Chancellor Matthew Goldstein recently received a $55,000 raise.
Transit workers spoke about the crisis in the MTA, which faces a $1.2 billion deficit for 2009. As an alternative to fare hikes, one worker and activist in the Transport Workers Union suggested returning to the days when there was a 5-cent tax on stock trades as an alternative to fare hikes.
Workers also spoke about being inspired by the recent victory at the Republic Windows & Doors factory in Chicago.
Protesters were excited to keep the pressure on through further protests and actions.