and
March 21 protests demand end to occupation
March 23, 2009
David Judd and Kristin Lubbert report on protests around the U.S. against the occupations of Iraq, Afghanistan and Palestine.
THOUSANDS OF protesters--some 5,000 in Washington, D.C., 4,000 in Los Angeles and 2,500 in San Francisco--marked the sixth anniversary of U.S. invasion of Iraq by turning out to protests March 21 that linked demands to end the U.S. occupations in Iraq and Afghanistan and the U.S.-backed Israeli occupation of Palestine.
In Washington, D.C., protesters, led by Iraq and Afghanistan veterans, began at the Capitol Mall, marched past the Pentagon and continued on to Crystal City, where the Washington headquarters of several military contractors, including General Dynamics, KBR, Boeing and Lockheed Martin, are located.
The protest was sponsored by ANSWER, and built in coalition with the National Assembly to End the Wars in Iraq and Afghanistan and a number of other groups. The demonstration was smaller than many previous national antiwar rallies, reflecting the work that needs to be done to rebuild the antiwar movement.
The march did attract a young, energetic crowd. John Hamilton, an Ithaca, N.Y., antiwar activist who has been going to protests since 2003, said, "I saw a lot of young people, very energized and ready to build a movement. For people of my generation and age, this is something inspiring to see."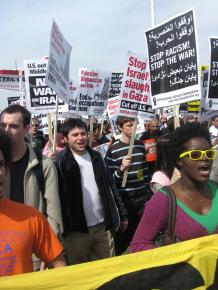 Many speakers addressed the need to organize a movement that will pressure Barack Obama into ending these occupations. "I'm happy to have an African American president," Elaine Johnson, who lost her son in Iraq, told the crowd, "but it doesn't matter who's in office--we need to end the war in Afghanistan."
Brian Jones of the International Socialist Organization argued that "they're trying to get rid of the sense of an urgent need for change" that Obama's election represented. Obama, Jones said, is "re-branding" occupation as a matter of "residual forces"--but "by any other name," it remains a crime.
Pete Rhomberg of the Campus Antiwar Network (CAN) described Obama as a "president of first steps," who closed Guantánamo, but kept open the Bagram detention center in Afghanistan, and who is withdrawing some troops from Iraq, but sending them to Afghanistan. Rhomberg argued that "it's up to us" to make sure these are just the first steps and not the last.
Although Arab and Muslim communities didn't mobilize in the same numbers as they had in January during Israel's assault on Gaza, several protesters reflected still-fresh outrage at Israeli atrocities. For Evan from the University of Georgia, this was his second-ever protest, after one in solidarity with Gaza--and he came "to stop all three wars."
In Los Angeles, nearly 4,000 antiwar protesters turned out on March 21. Before the march, speakers from various student, veteran, activist and union organizations addressed the crowd.
Some underlined the absurdity of spending billions of dollars on occupations while our economy is in shambles. Others spoke about the dire need for jobs, housing and health care. In his speech, Vietnam veteran Ron Kovic demanded the funds used by the Pentagon instead be used for "programs for veterans and the unemployed."
During the long march that wound through the busy streets of Hollywood, a favorite chant was "Hey, Obama, we demand, troops out of Afghanistan!" When marchers reached the Kodak Theater, a popular tourist destination, they staged a short symbolic "die in" by lying down in the middle of the street.
All in all, the enthusiastic demonstration showed the antiwar movement isn't going away until all the occupations are ended, and all the troops are brought home.
In San Francisco, some 2,500 people rallied at Justin Herman Plaza and marched to the Civic Center, with spirited chants of "Money for jobs and education, not for war and occupation!" and "We can do it, yes we can! No war in Afghanistan!"
CAN member Tayler Mehit spoke at the rally in front of the Civic Center. "We know that taking troops from Iraq and moving them to Afghanistan is not an end to the war!" Mehit said. "And we know that giving millions to Israel to aid in the continuing slaughter of Palestinians is not an antiwar position. We are committed to building a movement that can hold politician accountable to our demands."
A protester named Andrea said, "The Iraq war started when I was 14. It's outrageous that our government has gotten away with this. The wars in Iraq and Afghanistan need to end, and that's why I am out here today."
The police were out in force. When antiwar protesters were met by pro-Israel counterprotesters holding signs that said, "Keep an eye out Tristan Anderson"--mocking the U.S. activist tragically wounded in Palestine--marchers chanted at them in protest.
The police used this as an opportunity to go after an 8-year-old Palestinian boy. A group of activists stepped in to prevent his arrest, and a number were shoved to the ground and detained themselves by police.
In San Diego, some 300 people protested at a march and rally called by the San Diego Coalition for Peace and Justice.
Speaker Cindy Sheehan tied the wars and occupation to the economic crisis. "The robber class does not exist to help the robbed class--they exist to rob us," she said. "It's about time we stopped letting them rob us. They rob our wealth, they rob our land, and they take our children to kill in wars. Until we stop them and say 'you can't take anything from us anymore,' they'll keep doing it...
A 16-year-old Francis Parker School student, Lyle Daniel, said he and his friends were there because "we are in the middle of three unjust wars. Our government's actions don't represent the sentiment of the U.S. people."
"I'm really against the war," said San Diego City College student Elizabeth Mariscal. "I think that it's really unfair that we're wasting all this money on this when our teachers are getting pink slips and health programs have been cut."
In Tacoma, Wash., 20 miles south of Seattle and near the Fort Lewis Army base, 200 people marched in a protests led by the Iraq Veterans Against the War (IVAW) and the GI coffeehouse Coffee Strong.
The next day, another 150 people marched through downtown Seattle and rallied near Pike Place Market. Chanting "Iraq, Afghanistan, Palestine--Occupation is a crime!" protesters received cheers and peace signs from onlookers.
As Nada Alia, a local Palestinian activist, put it, "I'm so heartened to see the rise in awareness and solidarity with Palestine. We have to connect it up with the U.S. wars on Iraq and Afghanistan because it's all one war for control of the Middle East."
In Rochester, N.Y., over 120 marchers turned out in a protest organized IVAW, MoveOn, Rochester Against War, the ISO and other groups. At one point, protesters took over Main Street, concluding with speakers from IVAW and Students for a Democratic Society.
Sam Bernstein, Rick Greenblatt, Robert D. Skeels, Angela Stoutenburgh, Kristin Sweeney and Leela Yellesetty contributed to this article.