and
Call Bloomberg's bluff
June 27, 2011
Ralph Johnson and Doug Singsen argue that the unions and community activists have the leverage to stop all of Michael Bloomberg's proposed cuts.
WITH A June 30 deadline looming for the New York City budget, City Council Speaker Christine Quinn, Mayor Michael Bloomberg and United Federation of Teachers (UFT) President Michael Mulgrew made a deal June 24 that averts 4,100 proposed teacher layoffs and the proposed closing of 20 firehouses.
The deal involved two concessions from the UFT. All study sabbaticals for the 2012-2013 school year will be canceled, and teachers from the Absent Teacher Reserve (ATR) pool (teachers without a regular teaching assignment who still receive a full salary)--are to be more effectively placed in long-and short-term school vacancies in their districts.
According to the UFT, "Such use is designed to save much of the money the [Department of Education] now spends on 'per diem' substitutes to fill these vacancies." The details of the full budget proposal, which has come from an agreement between Quinn and Bloomberg, have yet to be released as of this writing. A City Council vote on the budget is slated to take place June 28.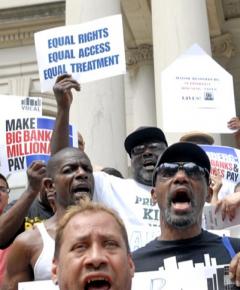 Many teachers who were on the chopping block, along with parents and students of teachers slated to be laid off, will surely breathe a sigh of relief. We can also take heart that an already embattled Bloomberg was forced to back off his repeated insistence that massive teacher layoffs were the only solution to the budget crisis.
---
THIS INTRANSIGENCE has been exposed as so much bluff and bluster in a failed attempt to attack union seniority rights. And in the context of vicious attacks on unions and budget cuts throughout the country, on first glance, it would be easy to see this deal as a victory, or at least to view it as the best possible in the given circumstances. Indeed, if ATRs, many of whom are veteran teachers who have spent one or two years or more without a regular teaching position, are indeed able to fill otherwise vacant positions, this part of the deal is positive.
But a closer look at the deal reveals the highly problematic nature of this agreement. The leadership of the UFT appears to have unilaterally agreed to a framework which will lead to layoffs in other sectors and cuts to essential services. As Bloomberg himself said, "Make no mistake about it--this is not a good-news budget."
Schools still face school-based cuts to their budgets. According to the New York Times, 1,000 city workers still face the axe, many of them health care workers. Quinn claims that restorations will be made to previously announced "cuts in child-care services, libraries, senior centers and social services."
However, it is yet to be seen how much of this funding will be restored, as the full details of the budget agreement made between Quinn and Bloomberg have yet to be released. Bloomberg's most recent budget proposal included a 29 percent cut in funding for libraries, which would cause many to operate only three days a week, cuts to senior centers, hospitals, cuts in child care and more. The deal with the UFT does nothing to guarantee these cuts will be restored.
While the 4,100 layoffs have been averted, a significant workforce reduction will only lead to further increases in already ballooning class sizes. Bloomberg's initial proposal--to not replace those teachers lost through attrition--remains in place. Despite initial estimates of 2,000 positions lost through attrition, the current estimate is 2,600, though even this number could increase, as the school year ends June 28.
Some of these positions may be replaced by the 1,200 ATRs. But teacher attrition has been ongoing in recent years. If we assume the 2,600 number, when you combine this year's attrition with the attrition in the previous two years, then there will have been a loss of one of every 12 teachers since the 2008-2009 school year.
There will be 72,400 teachers next year, and there were 79,000 in 2008-2009--which inevitably leads to ongoing class size increases and a declining quality of education. We need a restoration of the lost positions, not further cuts.
---
WHILE THE budget proposal that will come up for a vote this week didn't live up to Bloomberg's threats, a closer look at the negotiations that led up to it indicates that all the cuts could have been avoided if a stronger fight had been waged.
While the UFT did participate in a 20,000-strong march on Wall Street May 12, the only major union mobilization specifically against the cuts was a rally of 10,000 called by AFSCME District Council (DC) 37. The UFT did not call its own protest, and while it did endorse the DC 37 demonstration, it did so at the last minute and turned out only 1,000 or 2,000 members, a small number for a union the size of the UFT, which has more than 100,000 members.
Had the UFT, DC 37 and other public-sector unions insisted that no cuts were necessary if the city raised taxes on banks, corporations and the rich, had they mobilized more members over a more extended period of time, and had they refused to accept compromises from Bloomberg, they may well have been able to avoid any cuts or concessions.
One indication that support could have been built for stopping all the cuts is the fact that Bloomberg's popularity ratings are at an all-time low of 39 percent, placing him in a very weak bargaining position.
More could have been won if the unions in the Municipal Labor Council (MLC) had stuck together. The MLC had proposed taking $262 million from the unions' Health Stabilization Fund, a deal that fell apart due to a lack of consensus on the council, with key opposition coming from DC 37. The UFT had also backed this proposal, and then struck out on its own when it collapsed on Thursday.
The current deal appears to have been done unilaterally by Mulgrew, outside of the framework of the MLC--essentially selling out other unions and other services that still potentially face cuts.
For his part, Bloomberg appears to be chiding the workers of unions who did not take part in this deal like children--and punishing them with layoffs, while rewarding the UFT with no layoffs. Bloomberg said, "The UFT, in all fairness, came through" adding that, "other unions had the opportunity to [avoid layoffs] and chose not to."
The total savings of the side agreement with the UFT adds up to $60 million. But while demanding cuts in jobs and services, Bloomberg continues to run up spending on his pet projects. To cite just one example, Bloomberg has budgeted a massive increase in education technology for the coming year--totaling $900 million, including $52 million for technology contractors, up 86 percent from a year ago.
This exorbitant spending comes after the city devoted $722 million--more than 10 times what was originally projected--on a no-bid contract to corruption-laden CityTime to run the New York City time sheet system.
Thanks to the reporting of Juan Gonzalez, Bloomberg finally ended the city's contract for CityTime, and key players in the scandal were forced to flee the country.
What's more, increased tax revenues from Wall Street, which is once again profitable and receiving huge bonuses, should have staved off cuts and allowed the city to restore services curtailed in previous years. And as the budget deal came out, it was revealed that $170 million in extra tax revenue came in. Nevertheless, the MLC and UFT accepted the need to accept some cuts and make compromises.
Meanwhile, others argued that there was plenty of money in the city that could have been used to avoid all cuts, including the record profits now being made again on Wall Street, the hundreds of millions of dollars being given by the city in corporate giveaways, the low tax rates paid by the rich in the city, and the existence of a $3 billion rainy day fund held by the city.
One group that took up the call for no cuts and no layoffs were the protesters of Bloombergville, an encampment held by workers, students and others affected by the cuts 24 hours a day beginning on Tuesday, June 14.
While the numbers at Bloombergville were small, ranging from 15 to 150, it was able to put forward an argument that there was an alternative to the cuts--and a need for a stronger, more sustained form of resistance.