and
We don't want Bratton here
January 31, 2013
SOME 200 Oakland, Calif., residents rallied at City Hall on January 15 to raise their voices against the racial profiling practices of the Oakland Police Department--and the threat that they could get even worse under a new top cop with a notorious reputation.
On the agenda for a public safety committee meeting that evening was a motion to spend $250,000 to hire William Bratton, former chief of the New York and Los Angeles Police Departments, as a consultant.
Bratton is infamous for his support of racist "stop-and-frisk" and zero-tolerance policies. As New York Police Department chief, the number of stop-and-frisks reached new highs. During his seven years as chief of police in LA, such stops grew by almost 50 percent to 875,204 during his last full year on the job in 2008.
Eighty-four Oakland residents signed up to speak at the January 15 committee meeting, the overwhelming majority opposed to hiring Bratton. Many speakers addressed concerns about violent crime in Oakland, but pointed to police tactics as part of the problem, not the solution.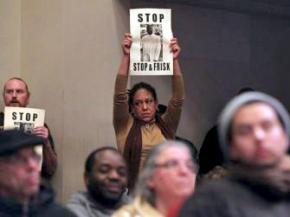 As Dan Siegel, a lawyer and activist with the Justice for Alan Blueford (JAB) coalition, which is fighting for justice for the 18 year old who was killed by police last May, told the committee, "Stop-and-frisk policies are responsible for the murders of Alan Blueford and Oscar Grant."
Other speakers addressed alternate responses to Oakland crime rate, such as devoting resources to education, jobs programs and restorative justice. As François Hughes, a member of the International Socialist Organization and JAB activist, said:
One of the infractions that zero-tolerance policies target is graffiti. These are folks who can't afford oil paints or canvases, so they use the materials they have available to them. Instead of criminalizing graffiti artists, we should fire the police and use that money to hire graffiti artists to make our city beautiful.
On January 22, activists returned to City Hall to protest at a full city council meeting. In preparation, City Council President Patricia Kernighan sent an e-mail to constituents explaining her decision in favor of hiring Bratton and other pro-police measures, and urged people to come to the meeting to express their support as well, using the slogan, "Sane Oaklanders reclaim their city government!"
Still, most of the Oakland residents who filled the City Council chambers, galleries and several overflow rooms opposed hiring Bratton.
During a rally before the meeting, Rachel Herzing of Critical Resistance and Stop the Injunctions Coalition expressed frustration with the lack of democracy in the City Council's process:
We encourage the City Council, instead of just steamrolling ahead despite the opposition that's so clear-cut, to listen to the people of Oakland and to respond. We don't want stop-and-frisk here, we don't want racial profiling here, we don't want sit-and-lie here. I think that's been very, very clear. If the chief of police says he doesn't want these policies, then William Bratton is not an appropriate contractor.
Walter Riley of the Justice For Alan Blueford Coalition reacted to statements from City Council members claiming that hiring Bratton as a consultant is not an endorsement of stop-and-frisk, saying, "This is about Stop and Frisk--that's who William Bratton is. He said on last Monday night that cities have to use stop-and-frisk...This is not the kind of PR that our communities need."
Rashidah Grinahe of People United For a Better Life in Oakland addressed alternative uses for the $250,000 the city wants to use for Bratton:
This is money that could be used to really help folks in Oakland. There are people who are hurting, there are people who need jobs, there are people who need training, there are people who need support, and this money is going down the drain to some person to come in here and presumably "enlighten" this police department. We're paying for essentially two police chiefs here: one who we already have and one who we're paying the same salary to for a short while...We're saying thanks, but no thanks. We have a lot better uses for this money right here in Oakland.
Another speaker, George Galvis of Communities United for Restorative Youth Justice, explained how his organization worked to provide an alternative to law-and-order policies:
We have an organization here that works with young people being caught up in the madness--the same young people that this city referred to as sociopaths, as domestic terrorists, as bullet-magnets, young men who were defendants in the gang injunction here in Fruitvale. We've worked with them, we've seen them transform their lives, we've seen them become engaged in their community, developing community gardens, developing community beautification projects, promoting peace and unity, mural projects in the gang injunction zone.
Though the City Council did vote to hire Bratton, it's clear that Oakland activists will continue organizing against the racist policies of the Oakland Police Department.