A day to protest JPMorgan
August 14, 2013
Chance Lunning reports from Minneapolis on a key struggle for housing justice.
OCCUPY HOMES MN and housing justice activists around the country are calling for a national day of escalated bank actions against JPMorgan Chase bank branches on August 19, in response to the banksters' illegal and unethical foreclosure practices in south Minneapolis and all over the country.
Although Chase officials promised Sergio Ceballos they were working to modify his loan, they proceeded with eviction at the same time. This practice, where the bank simultaneously pushes toward foreclosure while in negotiations over mortgage modifications, is called dual tracking and is illegal under the federally negotiated National Mortgage Settlement and the Minnesota Homeowners' Bill of Rights. But that's not stopping Chase, which received failing marks from the settlement monitor.
On July 24, 32 sheriffs arrived at Ceballos' home to evict the occupants. They arrested two people for nonviolent resistance--but 75 community members drove them off.
As the family continues to hold the home, Chase still refuses to modify Ceballos' loan and to push for eviction. Hundreds of activists, neighbors and community members have rallied to defend Sergio and his family. Over the past month, they have maintained a round-the-clock occupation of Sergio's home, held several large rallies and defended the residence against the sheriffs.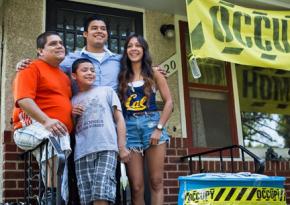 Jaymie Kelly, one of Sergio's neighbors in the Minneapolis Eviction Free Zone, is expecting to be served with an eviction notice sometime next week. Jaymie has lived in the neighborhood her entire life and in her current home for 30 years. In that time, she has paid $425,000 for a house valued at $81,000.
Jaymie, like Sergio, has vowed to stay in her home, and the community is preparing to stand with her. Chase Bank also services Jaymie's loan. They've told her that there's nothing they can do about the eviction, because Freddie Mac, which is notorious for refusing to negotiate with homeowners, now owns the house.
But Occupy Homes' experience, like that of activists around the country, shows that public pressure can force the banks to the negotiating table--it's just a matter of ramping that pressure up to a critical level. Occupations of foreclosed houses and taking over bank-owned vacant houses are an important part of building that pressure, but the banks are on the offensive, pushing forward with evictions, while at the same time putting forward the false story that the foreclosure crisis is over. We need to step it up and show that we are not going to stand for it!
Please join us in organizing rallies, petition deliveries and holding actions at a Chase branch near you (make sure to take photos to post on the Occupy Homes MN Facebook page). If you can't participate in an action, set this image as your profile picture on social media.
We need to send a clear message that we will not be bullied, we will not back down and we will continue to stand up for our neighbors and in defense of our communities. To do so, we need to make a powerful display of our determination and solidarity against Chase Bank.
As we say in Occupy Homes MN: "This is an Eviction Free Zone. We shall not be moved."