Oakland sit-in to win justice
February 21, 2014
David Judd reports on a protest against police brutality by members of the Justice for Alan Blueford Coalition.
EIGHT PEOPLE were arrested on February 13 for refusing to leave the lobby of Oakland, Calif.'s State Building on Clay Street, where they were demanding that California Attorney General Kamala Harris prosecute killer cops. Outside the building, more than 100 others participated in a rally, including dozens of family members of Californians murdered by police.
The protest was initiated by the Justice for Alan Blueford Coalition (JAB), which has worked since the May 2012 murder of Alan Blueford to bring his killer, Oakland police officer Miguel Masso, to justice.
Eighteen-year-old Alan was just one month away from graduation from Oakland's Skyline High School when he was gunned down. He had been hanging out with friends on the evening of May 6, 2012, when the group was approached by two police officers with weapons drawn. Alan, who was unarmed, ran--and was shot by Masso.
Police initially claimed that Alan had fired a weapon at Masso, but no gun or gunpowder residue was ever found on Alan. Instead, the injury that Masso sustained--a gunshot to the foot--turned out to be self-inflicted. Alan and his friends were stopped for no other reason than that they were Black. Then-Alameda County District Attorney Nancy O'Malley presided over a whitewash investigation.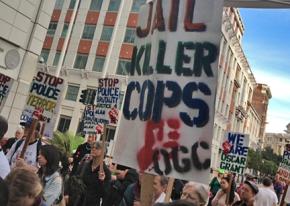 It was only after the formation of the JAB Coalition and the efforts of activists that the lies of the Oakland police were countered. For months following Alan's murder, activists organized street marches and rallies. The coalition has now gotten support from families of other police murder victims throughout the state to pressure Harris, an attorney general with larger political ambitions, to step in.
Victims represented by family members and supporters at the February 13 action included Andy Lopez (a 13-year-old shot dead last fall in Santa Rosa for carrying a toy gun), Oscar Grant, James Rivera, Ernest Duenez, Kayla Moore, Charles Burns, Jesse Hamilton, Obataiye Tamirr Lewis Edwards and Gary King (a 20-year-old killed in Oakland in 2007).
King's mother, Cathy King, told those at the rally, "My son wasn't as valuable as your cellphone." Dan Siegel, an independent candidate for mayor in Oakland, and former Black Panther Party chair Elaine Brown also spoke.
Seven of the eight arrestees were participating in a planned civil disobedience. The other, lawyer Anne Weills, was present as a legal observer, but was nevertheless arrested when more than a dozen California Highway Patrol officers in riot gear stormed into the lobby and surrounded the sign-holding activists. The arrestees were held overnight in Santa Rita jail, and released in a trickle through the morning.