Hollywood's gender imbalance
March 4, 2014
Laura Durkay shows why the movie industry has a ways to go toward gender equality.
COMPARED TO last year's cavalcade of Islamophobia and sexist jokes, the 86th annual Academy Awards seemed downright tame.
While no one seemed capable of reading the teleprompter smoothly, and Jared Leto doesn't appear to know very much about Venezuela, Jennifer Lawrence didn't trip on anything (onstage), and Ellen DeGeneres managed to be funny without singing any songs about boobs.
12 Years a Slave took home well-deserved Best Picture and Best Adapted Screenplay Oscars, and Lupita Nyong'o became only the seventh Black actress to win an Oscar, for her powerhouse performance as Patsey, a fellow slave whom protagonist Solomon Northrup must leave behind when he regains his freedom.
12 Years a Slave is the first American film about slavery based directly on a slave narrative, and Nyong'o, screenwriter John Ridley and director Steve McQueen all found ways to honor the real people on whom the story is based in their acceptance speeches. Brad Pitt, whose production company partially financed the film, made the best statement possible for him by stepping out of the way and giving most of the Best Picture acceptance speech time to McQueen.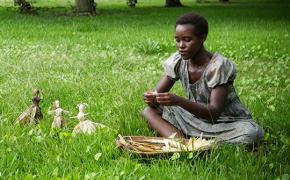 The night was mostly a wash for the other political films of note. The documentary category featured three superb political films: the Egyptian revolution doc The Square; Jeremy Scahill's Dirty Wars, about U.S. covert operations and drone strikes; and The Act of Killing, a surreal exploration of the mass slaughter that accompanied a U.S.-backed coup in Indonesia.
All lost out to 20 Feet from Stardom--almost an exact repeat of last year, when Academy voters picked Searching for Sugar Man over four similarly excellent political documentaries.
Also passed over in the foreign film category was the fantastic Omar, a crackerjack thriller set in the West Bank, from Palestinian director Hany Abu Assad. Omar tells the story of three friends torn between collaboration and resistance under the weight of the Israeli occupation. Currently playing in many cities across the U.S., the film is a must-see.
---
ACADEMY MEMBERS can congratulate themselves on awarding the (certainly deserved) Best Picture Oscar to a film about slavery, awarding the first Best Director Oscar to a Latino (Gravity's Alfonso Cuaron), and presenting two awards to a film about the AIDS crisis (albeit one with a straight protagonist).
But Cate Blanchett highlighted a not-so-rosy aspect of Hollywood's diversity story while accepting her Best Actress Oscar for Blue Jasmine.
While scrupulously avoiding any mention of the allegations of child sexual abuse against Blue Jasmine director Woody Allen, Blanchett used a prominent portion of her speech to call out those in the film industry "who are still foolishly clinging to the idea that female films with women at the center are niche experiences. They are not. Audiences want to see them, and in fact, they earn money."
Blanchett joins a number of media critics and filmmakers who have recently drawn attention to the truly abysmal gender imbalance in Hollywood, both in front of and behind the camera. This imbalance was painfully obvious in one of the awards show's own "heroes" montages, which featured Jennifer Lawrence's Hunger Games character as virtually the only female face.
Research conducted by the Center for the Study of Women in Television and Film at San Diego State University found that only 11 percent of the top 100 highest-grossing films of 2011 had a female protagonist--and women made up only a third of all characters in these films. As media critic Linda Holmes recently noted, during 2013's summer blockbuster season, it was quite likely that a U.S. moviegoer could go to a multiplex and not find a single live-action fiction film starring a woman. Not one.
This is partially a reflection of studios' increasing reliance on blockbusters, particularly big-budget action and sci-fi, which tend to be stories about men made for a perceived male audience. Commercially successful female-led franchises (The Hunger Games, Twilight) and bigger-budget comedies (Bridesmaids, The Heat) have had little impact on shifting this dynamic.
Another disturbing trend was noted in a recent New York Times article, in which film critics used statistical methods to analyze this year's Oscar nominees. They found that nominated lead actresses appeared on screen for significantly less time than their male counterparts--an average of 57 minutes for women and 85 for men.
More disconcerting was that some filmmakers didn't even seem to realize the discrepancy. When asked, an editor of American Hustle said he thought lead actors Christian Bale and Amy Adams had roughly equal screen time in this ensemble comedy. But Adams was on screen for only 46 minutes, compared to Bale's 60 minutes.
While both are arguably protagonists of the film, subtle and mostly unconscious biases about whose story is more important--who gets more scenes, dialogue, voice-over and close-ups when shooting and attention when editing--result in a significant gender imbalance, likely without the filmmakers even being aware of it.
---
IF THE situation is ugly for women in front of the camera, it's arguably even bleaker behind the scenes. The Center for the Study of Women in Television and Film has been tracking women's participation in the film industry for 16 years.
In reviewing the 250 top-grossing U.S. films in 2013, it found that women comprised a mere 6 percent of directors, 10 percent of writers and 3 percent of cinematographers. (For a point of comparison, women make up about 15 percent of active-duty U.S. military personnel.)
Women were 25 percent of producers--but only 15 percent of executive producers, usually the people who have control over the film's budget. Furthermore, the center found that most of these statistics had only changed a few percentage points over the past 16 years--and in some cases, had declined. Although women faired slightly better in independent films, and significantly better in the documentary world, in no category did they approach 50 percent of the people employed behind the camera.
Any story about the politics of Oscar night would be incomplete without mentioning the tragic story of Sarah Jones, a 27-year-old camera assistant who was killed on February 20 while shooting on an active railroad bridge as part of the crew of Midnight Rider, a biopic about musician Gregg Allman. Questions continue to swirl about why the film's producers instructed the crew to be on the tracks, allegedly without permission and without following the correct safety procedures
Few people outside the film industry may know Sarah Jones' name. But for many film professionals, her death was the nightmare scenario in an industry where crew members work physically demanding and sometimes dangerous jobs on schedules that would send a 19th century factory worker to the picket lines.
Filmmakers have paid tribute on the Slates for Sarah Facebook page, and lobbied to have Sarah included in the annual "In Memoriam" tribute during the Oscars. While her name was not added to the pre-recorded footage, a special banner at the bottom of the screen pointed viewers to her tribute page on the Oscars website.
Sarah's story is a grim reminder that, beyond the glitz, glamour and Hollywood gossip, the film industry is the workplace of thousands of individuals, who deserve basic safety, as well as workplaces where racial and gender equality is a reality.
While we should certainly celebrate the achievements of women like Lupita Nyong'o and producer Megan Ellison, who became the first woman to have two nominated films in the Academy Awards, the film industry still has a very long way to go in something as basic as whose stories get told, and by whom.