New York stands up for the victims of police
August 25, 2014
Gary Lapon reports from New York City on a demonstration demand an end to the epidemic of police violence and win justice for victims of brutality and abuse.
CARRYING SIGNS with messages like "Black Lives Matter" and "We Are Human," thousands of New York City residents and people from the surrounding area marched in Staten Island on August 23 to demand justice for Eric Garner and other victims of police brutality and violence.
The attitude of those on the march was summed up by Leah, who said, "We're tired of our young people being shot and killed for no reason other than racism. We're not savages or animals. We're not going to take this anymore. Every time a young man gets shot, we're going to come out."
It's not an exaggeration to say that police treat some people like animals. Garner, a 43-year-old African American father of six, was killed on July 17 by NYPD officer Daniel Pantaleo when he used an illegal chokehold. Shocking video of Garner's murder--including him repeatedly screaming "I can't breath, I can't breath," as officers continued to assault him--went viral on the Internet, sparking outrage after his death. The video also showed police and paramedics leaving Garner lying on the sidewalk for at least seven minutes without attempting to save his life, before loading his body onto a stretcher.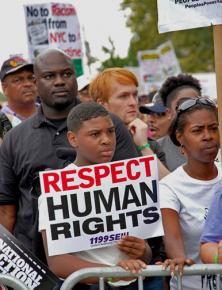 Garner's alleged crime was selling loose cigarettes, a nonviolent misdemeanor offense that is common across New York City. His death has since been ruled a homicide--but whether any of the officers responsible for his death will be held accountable remains to be seen. Garner's murder at the hands of police led to protests in Staten Island and beyond, which connected with other campaigns for justice for victims of police murder and brutality in the Greater New York City area and nationwide.
---
ON SATURDAY, marchers began at the corner where Garner was beaten by the NYPD, and went past Staten Island District Attorney Daniel Donovan's office to keep pressure on Donovan, who will bring the case before a grand jury next month.
The march, organized under the slogan "We Will Not Go Back," was sponsored by Rev. Al Sharpton's National Action Network. Other major sponsors included the NAACP, 1199SEIU United Healthcare Workers East and the United Federation of Teachers (UFT). The date chosen for the march was significant--the 25th anniversary of the death of 16-year-old Yusef Hawkins at the hands of a group of white racists in Bensonhurst, Brooklyn.
Garner's widow, Esaw Garner, told the crowd, "Let's just make this a peaceful march and get justice for my husband so this doesn't happen to nobody else--nobody else's son."
In addition to Garner's family, the parents of Ramarley Graham spoke at the march. Ramarley, an unarmed Black teenager, was killed by police in his home in 2012. Also present were family members of other victims of police shootings, including Amadou Diallo, Mohammed Bah, Shantel Davis, Kimani Gray and others.
Contingents joining the march included activists from CopWatch, anti-mass incarceration activists and the Communities United for Police Reform umbrella group--including the ACLU, Malcolm X Grassroots Movement and Peoples' Justice--which has been mobilizing for years against New York's "stop and frisk" policing policy that targets minorities.
The uprising in Ferguson, Mo., loomed large as a source of inspiration for marchers. The St. Louis suburb where Mike Brown was shot and killed by police was referenced everywhere on signs and T-shirts--the iconic chant from Ferguson of "Hands up, don't shoot" began as protesters arrived via the Staten Island Ferry in the morning and continued throughout the rally and march.
Unlike the uprising in Ferguson that has challenged the authority of the police, however, march organizers collaborated extensively with the NYPD and the administration of Mayor Bill de Blasio--so much so that Assistant Police Chief Edward Delatorre was able to brag, "It went terrific. The community and police marched together. This was not a march against police. This was a march with the police."
Opinions among marchers varied, but many expressed a more critical view of the cops as an institution through the popular chant, "How do you spell racist? NYPD." As Laurel Kean put it, "No matter what you're doing, police see it as a crime. It's not only an individual problem with the officer--it's institutionalized. The United States was founded on subjugation."
Others protesters demanded accountability and action from politicians. Constance Malcolm, Ramarley Graham's mother, said of the officer who shot Ramarley: "[Richard] Haste violated my son's civil rights. Obama [and Attorney General Eric] Holder have a responsibility to uphold justice for all."
---
MANY MARCHERS focused on expressing the humanity of African American people in the face of a systemic pattern of police profiling, brutalization and even murder that continues to go unpunished. The demonstrators also stressed the importance of building the movement to register resistance.
Jeffrey Williams, a retired teacher, said he was recently the victim of an unjust traffic stop, and that while charges were dismissed, he had to go through an ordeal and pay the cost of hiring a lawyer.
"The thing about police brutality in New York City is that when they cross the line, it's always people of color," Williams said. "They don't see us as human. So they think they can abuse us, they can kill us. That's why I'm here. People stood up for me in the '50s, when I was a young boy; now I get to stand up for other people."
He added, "I came all the way from the Bronx. When it's dark at night and we're all alone, they can intimidate us. They can't intimidate us here."
Children understand all too well what's happening in their communities. Britney, a third grader from Staten Island, said, "I'm out here because I want the police to stop killing Black people. I feel bad for what the police did to Eric Garner and all of them that they killed."
"I'm just tired and it's time to do something," said marcher Vanessa Simon. "What really struck me was, yesterday, there was this koala bear stuck in a tree. It fell, and they gave it CPR. And then I thought about Eric Garner, just lying there, with no one giving him CPR. So I got up early to be here, and protest that."
Importantly, there was also a significant Arab and Arab-American presence at the march, with protesters making a connection between repression in the U.S. and in Palestine. One banner at the march read, "Arab Americans Say No to the New Jim Crow." Chants that referenced Gaza could be heard, and there were more than a few Palestinian flags scattered throughout the march.
---
MANY PEOPLE came to the march specifically to support Eric Garner's family, and to call for justice for their own family members who have been brutalized or killed by police.
Relatives and supporters of Kyle Howell, who was severely beaten by Nassau County police on April 25, were there with signs and T-shirts demanding justice for Kyle. Charges were initially filed against Howell for assaulting officers, but were dropped after a video was released shoing officers attacked and beat Howell. Supporters are asking people to sign a petition demanding justice for Kyle.
Jamila Crawford traveled from Jersey City with her family. She explained: "We're here to support Eric Garner. My cousin was killed by the police [on June 24]. He was unarmed. He was 20 years old. His name was Lavon King."
The details of the killing of Lavon King are similar to those of Mike Brown in Ferguson. The police officer who fatally shot King claimed that King struggled with him and tried to get his gun. A witness said she heard someone, presumably King, ask "Why did you shoot me?"
Green Party candidate for lieutenant governor Brian Jones attended the march with a contingent of Green Party activists. As he stated:
I'm really proud to stand here today with thousands of New Yorkers who are saying 'enough is enough.' We realize that the police can get away with murder. They can literally do anything to you at any time and face no consequences. If we don't keep in the streets, if we don't keep up the pressure, none of this is going to change at all. I think the young people of Ferguson, who refuse to leave the streets, are showing us all the way, and I hope we follow their example.
---
THE LEAD-up to the march was not without controversy. Originally, Sharpton had planned to lead a march from Brooklyn to Staten Island over the Verrazano-Narrows Bridge. Several Republican politicians loudly opposed this move, claiming they worried about the "safety" of pedestrians and it would be a major disruption to shut down the main connection from Staten Island to the rest of the city.
Democratic Gov. Andrew Cuomo and New York City Mayor Bill de Blasio both followed suit, speaking out against having the march cross the bridge. De Blasio said that the march "would tear the city apart."
Instead of insisting on the right to march, Sharpton backed down, agreeing to bus protesters to Staten Island on "justice caravans" instead.
In an article written for the New York Daily News, Sharpton also spoke about his support for police, insisting that the problem is not institutional, but a case of "bad apples." He wrote:
Some have tried to label our demonstration as "anti-police." Nothing could be further from the truth. In fact, police officers will even be speaking at our rally on Saturday. Our problem isn't with the majority of cops who do their tough jobs day in and day out, keeping people safe. It is instead with the bad apples, the ones who push communities and police further apart, and create a climate of animosity and distrust. If we do not highlight cases like Garner's and demand accountability, then what sort of a message are we sending to both residents and those hired to protect them?
This sentiment was echoed by 1199SEIU United Healthcare Workers East, which printed signs reading, "Support NYPD. Stop Police Brutality"--as if the police are somehow separate from police brutality. The UFT released a statement to similar effect.
While the officers who killed Eric Garner were certainly "bad apples," you have to ask whether the barrel that continuously produces their likes is itself rotten. Police harassment of Garner for a minor offense like selling loose cigarettes is perfectly in line with Commissioner William Bratton's "broken windows" theory of policing, which focuses on going after people for petty crimes under the theory that this will prevent larger crimes from happening. Instead, such policies have historically meant an increase in arrests of poor and working-class people of color and the destruction of families as part of "tough-on-crime" policing.
Under liberal hope Bill de Blasio, this has meant a crackdown on subway performers and homeless people sleeping on the subway or asking for money.
The notorious "stop-and-frisk" policy that each year victimized hundreds of thousands of New Yorkers, overwhelmingly Blacks and Latinos, has not ended--it has simply changed form. In June, data was released that showed marijuana arrests by the NYPD in the first four months of the de Blasio administration increased compared to the last months of Republican Mayor Michael Bloomberg's administration. Racial disparities in arrests continued, with Blacks and Latinos making up 47 percent and 39 percent of those arrested, respectively.
Not only that, but the justice system has proven itself unwilling, time and again, to deliver real justice for victims of police brutality and family members of victims of police murder. Police are rarely indicted, even when they kill unarmed youth.
Even in the rare case when organized pressure forces an indictment, such as the charges against Richard Haste for killing Ramarley Graham, justice is elusive. That indictment was thrown out on a technicality. Ramarley's parents are still struggling to get the federal government to file civil rights charges against the man who murdered their son.
It's heartening to see so many people come out to fight for justice for Eric Garner and all victims of police murder and brutality. But preventing the same kind of atrocity from happening again will require challenging the racist nature at the core of police departments around the country. As James from Jersey City stated, summing up the march:
We're out here to protest the senseless killing of people, whether it be Black, white or any color. It's injustice. You can't put a price on life. It seems like the younger people are being killed in large numbers without a reason, and we'd just like to show that no matter what state--New Jersey, Missouri, New York--we protest together.

It's happening all over; it's not one single area, it's all throughout America, and if everybody unites, something can be done to stop it.
Jen Roesch, Lee Wengraf and Elizabeth Wrigley-Field contributed to this article.