What's behind the Oakland cops' killing spree?
August 31, 2015
A spate of recent deaths at the hands of Oakland cops is yet more proof that the police aren't out to protect the Black community, as they claim, writes Alessandro Tinonga.
SINCE JUNE, four people have died while being pursued by Oakland police.
On June 6, Demouria Hogg was found passed out in the driver's seat of his car. When firefighters approached him, they saw a gun on the seat. The police were called in and after trying to wake him for an hour, smashed his car windows. They then claimed a confrontation ensued, during which they used a Taser to try to subdue Hogg. Moments later, he was fatally shot.
On July 19, Richard Linyard was searched by police at a traffic stop. He then fled on foot. After 30 minutes, the police claim he was found dead, wedged in a small space between two buildings.
On August 3, Antonio Clements, a suspect in a sexual assault, was shot down after he reportedly came out of his house shooting at police.
On August 12, Nathaniel Wilks was suspected of robbery. When he was approached by police, he led them on a high-speed chase. After crashing his car, he tried to flee on foot, allegedly with a gun in hand, and ended up being shot down by police.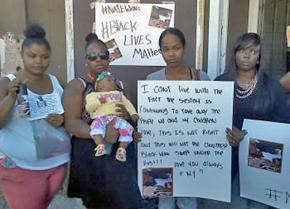 Each of these cases have different circumstances, but there is a disturbing pattern: Black men end up dead after they were pursued by the police, and their deaths are instantly justified by City Hall and the media. Due to an effective public relations campaign, the city of Oakland has been able to legitimize these deaths by painting all four men as lethal threats to the public and the police.
Though the Black Lives Matter movement has exposed how racist violence runs rampant in U.S. law enforcement, all of these cases seem to have been effectively "spun" in the media by the Oakland Police Department (OPD). In a city with some of the highest murder and robbery rates in the country, one that continues to be plagued with criminal violence, there is still wide support for increasing the city's police force.
Organizing around the cases above raises a number of political challenges for the Black Lives Matter movement and the left.
---
THE OAKLAND police have been carefully crafting their narratives for these cases ever since the death of Demouria Hogg, which was the first officer-involved fatal shooting in over two years.
Police have been tight-lipped about the case, refusing to release any information regarding what happened from the time police smashed in Hogg's car window with a metal pole to when he was fatally shot. Nor have the police released any video from the confrontation with Antonio Clements.
In the cases of Linyard and Wilks, the police have been more public in trying to vindicate themselves. On August 19, OPD Chief Sean Whent staged a carefully controlled showing of the footage from the two cases. Family members of Linyard and Wilks were invited with a select group of reporters to view the videos at a closed-door meeting. Notably, writers for the East Bay Express, which has a history of publishing muckraking articles about the Oakland police, were not invited.
It is highly unusual for the OPD to present video footage from officers' chest-mounted cameras or patrol car "dash cams." Oakland police have been forced to wear cameras since 2011, yet the department has been struggling to make their officers keep their cameras on when interacting with the public. Requests to release videos in past cases were routinely denied. The selective showing of video for the Linyard and Wilks case drew criticism.
Speaking to the Oakland Tribune, civil rights lawyer Jim Chanin commented, "I think it's completely wrong to have selective showings of one shooting and not another shooting, depending on how the department feels." Further, he said, "There's an inference now that if [the police] don't show you a video, there could be something wrong or improper about [another] shooting."
After the video showing, the family members of Linyard and Wilks still had strong doubts about the OPD's version of events. During a press conference, Linyard's mother, Jessica Gatewood, said, "I don't think it was a tragic accident. No, I don't think it was an accident...I believe he was murdered. And then they're trying to cover it up."
Asked why she didn't think it was possible for her son to die from being wedged between the buildings, she said, "In the space that they say they found him in, everybody's been in that space. Guys bigger than Richard went behind that space, turned around in that space."
The family of Nathaniel Wilks also dispute the OPD's story around his death. Though it is undisputed that Wilks had a firearm when he fled from police, big questions remain. Chemika Hollis, Wilks' partner and mother to their 3-month-old daughter Kai'lei, expressed her doubts: "There were definitely discrepancies in the video footage. The video was missing clips. It did not explain the officer's movements. [Nathaniel] never raised or aimed [the gun] at the police."
Plus, after the video showed Wilks being shot, Hollis pointed out it "did not show any life-saving measures...[He] was handcuffed after he was shot, and the police just stood around."
In addition to expressing doubts and criticisms of the OPD's handling of the case, Hollis felt intimidated at the video showing, as she discovered that she was being recorded at the event by members of the OPD. "I still have questions," she said. "I want the whole video released and I want an independent autopsy."
---
TO CURB criticisms of the OPD's actions and skepticism around these cases, there has been a lopsided focus in the media about the suspected criminal activity of three of the victims (Clements, Linyard and Wilks) and the criminal past of one (Hogg). Regardless of anyone's past history, or if they are suspected of a crime, people in the U.S. are supposed to be regarded as innocent until proven guilty--not assumed to be guilty in the court of public opinion because they were pursued by police.
The truth exposed by the Black Lives Matter movement is that when African Americans fall into hands of law enforcement, they are more likely to end up dead. Whether a Black person is suspected of a crime, was found committing a crime, was previously sentenced for a crime, or is innocent but is approached by a police officer, their life is in danger.
Nationwide, police are becoming more aggressive and dangerous. Some recent studies show that the number of people being killed by police is increasing drastically. Interestingly, most of the people who have been killed by the police this year have been white, which shows that police prey on all poor and working-class people. But African Americans are more likely to be confronted by police and get murdered in the process.
In the case of Antonio Clements, what actually took place isn't known to the public, because the OPD refuses to release any video footage of the confrontation. So it becomes difficult to say concretely how the cops might have subdued him using nonlethal force.
The police have their official story, which is that when they approached Clements' property, he came out shooting and injured an officer. But police have lied about similar situations in the past, including when Officer Miguel Masso justified the killing of Alan Blueford by claiming he was shot--it was later revealed that Masso shot himself.
However, because there has not been a vigil or protest around this incident, the OPD and the media have held up the case as an example of when police are justified in using lethal force--and of why police must be armed and the public should support this.
But even if it turns out that Clements did exactly what the police said, it doesn't change how the fact that the official stories around other cases are suspect. Nor does it alter the double standard that American law enforcement follows when it comes to approaching white suspects versus Black suspects. Nor does it excuse the corruption and racism that is embedded in the OPD.
---
FOR MORE than a decade, the OPD has been trying to change its tarnished image as a corrupt and violent force that is incapable of curbing the city's rampant crime rates.
Twelve years ago, a scandal rocked the city when the "Oakland Riders" case exposed how police officers assaulted and planted drugs on suspects in the majority African American neighborhood of West Oakland. Since then, the OPD says it has attempted to implement 19 of 22 court-ordered reforms, in a process overseen by an independent monitor. Though the department and monitor have touted the OPD's progress, there is still plenty to be alarmed about.
First, the department has consistently failed to discipline officers caught violating department policy or the law. Furthermore, an April 16 report showed that the city consistently failed to prepare its attorneys for arbitration hearings where punishments of disciplined officers were overturned. In August 2014, the city lost its ninth consecutive arbitration case against Officer Robert Roche, who had been fired for tossing a tear-gas canister at a demonstration organized by Occupy Oakland in 2011.
According to U.S. District Judge Thelton Henderson, many officers got their jobs back despite the city paying millions to settle civil lawsuits against the department. The reinstated officers were then paid thousands of dollars by the department.
Henderson also found that 75 percent of the time, disciplined officers were reinstated after arbitration. In other words, officers caught violating the law, even in cases when they used extreme force, are being allowed to re-enter the ranks of the department. This sends the message that officers are untouchable and can use all the force at their command.
Second, the OPD still employs racial profiling--newly data shows how officers target African Americans more than any other racial group. Between April 2013 and October 2014, 59 percent of those who were confronted by Oakland police in a vehicle or pedestrian stop were Black, though African Americans only make up 28 percent of the city's population. Three-fourths of those arrested in stops were Black.
The targeting of African Americans not only terrorizes the Black community, but it also leads to economic plunder. In May, the East Bay Express ran a story highlighting how, in low-income communities, minor traffic violations and vehicle assessments have created an untenable burden on thousands of low-income residents:
[A] $25 base fine actually costs a defendant a total of $197 with various assessments; a $100 fine costs $490; a $250 fine costs $1,105; and a $500 fine costs $2,130. That means drivers may have to pay nearly $200 for minor maintenance issues (such as a windshield problem) and nearly $500 for certain moving violations (like speeding). Non-driving violations can be equally costly, with a jaywalking fine totaling $197, and littering offenses costing nearly $500.
Just like in Ferguson, Missouri, poor Black neighborhoods are preyed upon to fund public institutions.
---
WHEN IT comes to real crime, the OPD has proved unwilling and unable to have any effect.
In the first quarter of 2015, the OPD's crime report revealed 23 homicides (it's now 54), 930 robberies and more than 3,000 burglaries citywide. The number of homicides and burglaries are about the same as last year, while robberies increased by 7 percent.
Police have no capacity to prevent crime, nor are they likely to catch someone committing a crime, because current policing policies do nothing to tackle the social roots of crime, like poverty.
The only thing that the OPD could conceivably do effectively is investigate crimes that have already been committed. Yet a recent expose by the East Bay Express showed that the department has intentionally drawn resources away from investigations in order to patrol working-class neighborhoods. According to the OPD's Whent himself, the department chose not to investigate 80 percent of robberies and 97 percent of burglaries in 2014--perhaps in order to put more pressure on the city to hire more officers.
A police department with a long history of criminality and abuse--one that is incapable of punishing officers who commit the worst excesses of violence and , and that routinely targets African Americans with racial profiling--cannot be trusted. In a city like Oakland, where crime devastates working-class families, especially in neighborhoods that are predominantly inhabited by people of color, it is ludicrous to justify unjust practices as a necessary evil.
The role of the police, in Oakland and elsewhere, is to protect private property and keep the capitalist system running without the threat of disruption. That is why it is absolutely necessary to be vigilant and question all cases where suspects being pursued by the police end up injured or dead.
The logic of hiring more police must be confronted to push back against the economic plunder that is forcing out African Americans in order to pursue profits.
While the entire Bay Area economy is experiencing a boom driven by the tech industry, working-class and poor people are being forced out of their neighborhoods. In the last 10 years, over 25 percent of Oakland's Black residents have been driven out by skyrocketing costs of housing and increasingly restrictive job market. In many traditionally Black neighborhoods, the unemployment rate may be as high as 28 percent.
Instead of providing desperately needed resources to neighborhoods, the city and business community continue to deploy police to crack down on the poor to make Oakland attractive to investment.
To rebuild Oakland to meet the needs of all working-class and poor people, we must unite in solidarity and reject the logic of supporting cops to prevent crime. "Security" for the community will only be ensured with affordable housing, jobs that pay a living wage, accessible medical care and quality education for everyone.
The increase of the police force, their budget and their seemingly unchecked power must be opposed. Defending African American communities from abuse can help forge the unity that will be necessary as we struggle for justice.