Report
Challenging the right outside the RNC
July 21, 2016
AS MANY as 1,000 people rallied and marched against the Republican National Convention (RNC) in Cleveland on July 18. There was high energy among the attendees, with chants like "How do you spell racist? RNC!", "Si se puede!" and "Deportations means we've got to fight back!" ringing out.
The march was peaceful, but there was a major police presence, with cops not only from Cleveland, but also Michigan, Texas and Columbus, Ohio. There were times when police provoked protesters--sometimes with words and sometimes by ramming them with their bikes.
The demonstration, under the slogan "End Poverty Now," was organized by a group called Organize! Ohio. According to its website, the group's mission is to "to build a system of support for community organizing efforts across the state by bringing together groups and organizations."
There were many different groups present at the event, but it's unclear how well-publicized the event was for Cleveland residents not already affiliated with organizations. Many people cited fear of police repression as a reason for a smaller attendance than might have been expected given how despised Donald Trump is, but another common refrain was that lots of Clevelanders simply didn't know the event was happening.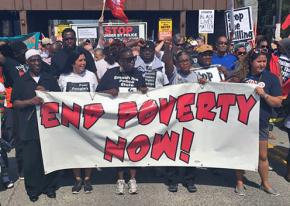 Several people from some of the organizations in attendance spoke about the need for more leftist organization in Cleveland. Avi Manouselis, a member of the Student Socialist Society (SSS) at Cleveland State University (CSU), said, "The left in general needs to get more organized...We need to show people there's more options."
Frida Etchell, another SSS member, echoed this sentiment, saying, "We need to keep on organizing and keep on making our voices heard."
Terri Tolefree has been a grassroots community organizer in East Cleveland, a 93 percent Black suburb, for the past 30 years. Tolefree is a member of the community group Black on Black Cleveland.
Describing the protest it helped to organize, the group's website explains, "Millions have been spent downtown for a 'big party' that will not result in revenues to fill the so-called empty city coffers. None of the so-called big events ever seem to put money in places that actually create jobs or provide money for schools, neighborhoods, health, prevention of lead poisoning, jobs, etc."
Tolefree explained that she was moved to protest in part because she has watched her neighborhood be disproportionately hurt by the neoliberal restructuring that has left the rustbelt city in severe decline. According to Cleveland.com, "In 1970, the town [of East Cleveland] had a population of 40,000, and the average household income adjusted for inflation was about $50,000. In 2015, the town's population had fallen to 17,000 and the average annual household income was $20,000."
In 2011, the Cleveland Clinic closed the East Cleveland Huron Hospital, a neighborhood hospital that was among the biggest sources of revenue for the declining Cleveland suburb. That same year, the Cleveland Clinic boasted the second-highest revenues of all hospitals in the United States.
Since the hospital was closed, East Cleveland has been dominated by a polluted dumpsite and recycling center, where construction materials are processed from demolished houses in an area where dilapidated, empty houses are common. Since the facility opened, residents have complained and organized protests against declining air quality and other environmental conditions from the site.
---
WHILE THE need for better organization was clear, activists expressed hope for moving forward.
Patrick Mahoney, a member of the Cleveland chapter of the Industrial Workers of the World (IWW), explained that it was important that several speakers pointed to both the Republicans and the Democrats as part of the problem. "I really appreciate the militancy of the people here," he said.
Solidarity and unity was on display throughout. Several groups ranging from immigrant rights organizations, indigenous people's rights activists, migrant workers, anti-poverty organizations and labor unions turned out.
As one protester, a self-identified relocated indigenous person and activist, stated: "I wanted to show my support with everyone. Black, LGBT, police brutality victims, migrant workers. I don't mean to sound cheesy, but unity is power...I think this will lead to revolution when people realize we can dismantle this oppressive system together."
CSU student Kevin Latimer stressed the importance of building solidarity under the divisive conditions of capitalism. "Every social ill comes from capitalism because workers are forced to compete with each other," he said.
Some people spoke on the need to build international solidarity. One Jewish Voice for Peace member commented on the need of human rights for Palestinians, saying, "Lifting up human rights of Palestinians is part of the struggle for human rights for everyone. I'm not partisan for any one party. But none of the parties are putting out any platform that we really believe is affirming justice and working for equality and the end to Israeli occupation."
Walking alongside a group of bicycle-riding, armor-wearing cops, 22-year-old Olivia Payne carried a sign that read "Stop the Killing." "We as Black people can't be afraid," Payne said, noting that several of her friends didn't attend the protest due to fears of police violence. "I grew up in East Cleveland pretty poor, and found out how hard it is to move up the social ranks."
Although she came to protest the RNC, Payne said she believes the solution moving forward "can't be Republicans and can't be Democrats...I liked the Bernie Sanders campaign, but was disappointed that he endorsed Hillary, but that's the game. We need to change the system to where we don't have to choose the lesser of two evils."
Moving forward, the left has to continue to organize and cohere its forces to build a movement independent of the two parties of Corporate America. One opportunity will come later this month at the Socialist Convergence in Philadelphia--a conference organized by multiple socialist organizations scheduled to take place during the upcoming Democratic National Convention in Philadelphia.
So many people are angry about police brutality, our sham elections and candidates, and crushing economic and political realities. An organized left can start to build a vehicle for the kind of transformation deeply desired by so many.