Why a Wisconsin women's clinic closed down
August 30, 2016
Dayna Long reports from Wisconsin on the reasons behind the closure of a Planned Parenthood clinic--and on what it will take to win safe, legal and accessible abortion.
ON AUGUST 22, Planned Parenthood of Wisconsin announced that its Appleton North clinic will close its doors permanently.
The shuttering of the Appleton abortion clinic is a tragedy for Wisconsin people, many of whom will be forced to leave the state for abortion care, seek illegal and potentially dangerous abortions, or forego terminating a pregnancy altogether due to extremely limited access.
The closure of this clinic is different to others around the country that have shut their doors in that it isn't the result of right-wing legislation. This time, an increase in violent threats and right-wing terrorism at abortion clinics led Planned Parenthood to make its decision.
The clinic had already been closed temporarily due to staffing shortages since 2015. Planned Parenthood determined that it wasn't feasible to make the renovations needed for the clinic to meet the organization's new standards for clinic security--standards that became more important after a shooting at a Planned Parenthood in Colorado Springs, Colorado, left three people dead and nine others injured.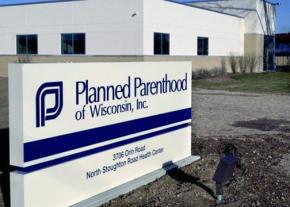 Terry Hyuck, CEO of Planned Parenthood of Wisconsin explained the hard choice:
In the months following the Colorado Springs tragedy, we have conducted a thorough security review that included staff trainings to re-enforce our strong security measures...Following our extensive review, however, we concluded that our Appleton North facility cannot meet the stringent security standards we have in a post-Colorado Springs environment. As a result, we made the difficult decision not to reopen the Appleton North facility as originally planned.
---
FOR PLANNED Parenthood of Wisconsin, like many abortion providers in the U.S., the violence of the anti-choice zealots has already hit close to home.
In 2011, a man was arrested in Madison, Wisconsin, after his gun discharged in a motel room. He admitted to police that he had traveled to Madison to shoot and kill an abortion doctor.
In 2012, an unknown individual put a homemade explosive device on a windowsill at the Appleton North clinic. No one was injured in the explosion, and there was minimal damage to an exam room, but the attack was chilling and highlighted the clinic's vulnerability.
According to statistics compiled by the National Abortion Federation, 2015 saw a significant increase in the number of threats made and acts of violence carried out against abortion providers.
The spike coincided with the launch of a video smear campaign against Planned Parenthood, in which edited footage falsely suggested that the organization was profiting from selling fetal body parts. These incendiary, viral videos had real-world consequences for clinics as threats, vandalism and arson all increased.
The closure in Appleton leaves Wisconsin with just three remaining abortion clinics: one in Madison and two in Milwaukee--both cities in the southern part of the state. This new geography of reproductive health care creates a major gap in abortion access for a vast part of the state.
Getting an abortion could require a 200- to 300-mile drive, a trip that might have to be made twice, since Wisconsin law mandates a 24-waiting period between the first appointment at an abortion clinic and the procedure itself, increasing the travel time and expenses, lost work hours, and potential lodging and child care costs.
In anticipation of the barriers to abortion care faced by people from the northern parts of the state, NARAL Pro-Choice Wisconsin has established a lodging program in Madison called Patient Stays Wisconsin. To date, about 18 Madison families have volunteered to provide lodging for patients who have to travel significant distances to get an abortion.
The program will undoubtedly provide some relief, but as the executive director of NARAL Pro-Choice Wisconsin, Eliza Cussen, explained in an interview with The Isthmus, "The pro-choice movement is going into damage control. There's only three clinics that provide abortions left in the state. That means there is one clinic for just about 1 million Wisconsin women. That puts us on par with Texas."
---
THE CLOSING of the Appleton North Planned Parenthood clinic, along with the overall increase in violence and vitriol directed at clinics, highlights the shortcomings of the electoral strategy favored by many women's rights groups and pro-choice organizations, including Planned Parenthood itself.
Endorsing and canvassing for pro-choice politicians is not enough to preserve abortion access. In the case of the Appleton North clinic, this is because there is literally nothing Democratic politicians could do, even if elected, to restore the clinic. The right's terrorism is already illegal, and that's what was at the root of the decision.
More importantly, Democrats themselves have played a part in fostering the current climate.
When pro-choice Democrats like Hillary Clinton talk about abortion as a "tragic choice"; when Clinton claims that you can "absolutely" be a feminist and anti-abortion; when she and her fellow Democrats can overlook Tim Kaine's shameful history on abortion rights, including his support for the Hyde amendment, to make him the vice presidential candidate; then they must be held responsible for allowing the debate to take place on the right's terms.
With Democrats apologizing for abortion rather than defending it as a woman's right, the anti-choice zealots can race further to extremism, with increasingly conservative Republican candidates emerging in every election cycle and more anti-choice legislation being introduced and passed in the states each year.
Continuing to make the election of Democrats the highest priority of the pro-choice movement is a mistake that will lead to more clinic closures. This is true not only because it neglects the task of building an independent, unapologetic pro-choice movement to counter the right, but because it enables the rightward shift of the debate.
Activists must be mobilized for more than knocking on doors during election season. We must build a broad movement that will fight on campuses, in communities and in the streets for abortion rights--and whose unflinching support for unfettered access to abortion care can serve as a visible, hopeful counterpoint to the smear campaigns and attacks from the right.