A happy ending at the Oscars
February 28, 2017
A year after #OscarsSoWhite was trending on Twitter, 2017 was a stellar awards season for Black films and filmmakers, writes Laura Durkay.
THE 2017 Academy Awards broadcast will most likely be remembered for the surprise twist ending, in which an award envelope snafu led to La La Land being declared Best Picture and three of its producers giving their acceptance speeches before it was announced that Moonlight was the actual winner.
The bizarre flub of the night's biggest moment was made even more surreal by the fact that the two films could not be more different from each other--and seem to represent two possible directions for the future of the American film industry as a whole.
La La Land arrived at the Oscars with a record-tying 14 nominations and was heavily favored to win in many categories. It's a candy-coated pastiche of classic Hollywood musical tropes that follows young, pretty white people striving for their dreams in Los Angeles. If film industry denizens love it, it's because it's a film about themselves.
By contrast, Moonlight is a low-budget independent drama with no stars, about a Black gay man growing up in a poor neighborhood in Miami, written and directed by two Black men (one gay, one straight) who actually grew up in the community they depict.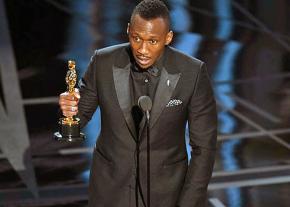 While it ends on a hopeful note, it's a film that pulls no punches about the realities of poverty, racism, drug addiction, homophobia and the way aggressive masculinity can seem like a shield against a harsh world, but ends up becoming a trap.
It's exactly the kind of small, gorgeous film about the human experience of marginalized people that we've been yelling at the film industry to produce more of for years. It's also the kind of superbly crafted independent film that sometimes makes it onto the Best Picture nomination list, but is rarely expected to win.
But win it did, becoming the first LGBT-themed film to score an Oscar. Mahershala Ali, who plays Juan, a drug dealer and substitute father figure to the film's protagonist Chiron, also became the first Muslim actor to win an Oscar. And although she didn't win her category, Moonlight's Joi McMillon is the first Black woman ever to be nominated for Best Editing.
A year after #OscarsSoWhite was trending on Twitter, 2017 was a stellar awards season for Black films and filmmakers, with Moonlight, Fences, Hidden Figures, Loving, I Am Not Your Negro, 13th and OJ: Made in America all receiving nominations, along with five Black actors and actresses.
It seems likely that the efforts of the Academy to induct more members of color, as well as women and younger filmmakers, in the wake of last year's controversy had at least some effect on the nominations. It's also possible that the media spotlight on Hollywood racism effectively guilted some of the Academy's mostly white membership into paying more attention to films by and about people of color.
But in order to be nominated, these films needed to exist in the first place, and that is a process that in most cases takes more than a year. It's more likely that the relative surge of films about Black people is a longer-term echo effect of several years of the Black Lives Matter movement forcing itself into the headlines and eventually penetrating even Hollywood's slow-to-react zeitgeist.
It's true that almost all the films of this current wave are based on real-life historical stories of famous or exceptional Black people. Films like Moonlight, about ordinary people of color just living their lives--let alone people who are also queer and poor--are still few and far between.
---
IN ADDITION to Moonlight's triumph, there was a noticeable current of solidarity in a number of Oscar speeches. Host Jimmy Kimmel kept his political jokes relatively tame, tweeting at Trump and mock-thanking him for making Hollywood's racism look like a minor problem by comparison.
But Mexican actor Gael Garcia Bernal paused between two award announcements to declare:
[A]ctors are migrant workers. We travel all over the world. We build families, we construct stories, we build life that cannot be divided. As a Mexican, as a Latin American, as a migrant worker, as a human being, I'm against any form of wall that wants to separate us.
Iranian director Asghar Farhadi, who won the Oscar for Best Foreign Language Film for The Salesman, sent a statement that read:
I'm sorry I'm not with you tonight. My absence is out of respect for the people of my country and those of other six nations who have been disrespected by the inhumane law that bans entry of immigrants to the U.S.
His Oscar was accepted by two Iranian Americans, astronaut Anousheh Ansari and former head of Mars exploration for NASA Firouz Naderi.
While the world of the Oscars may seem far removed from the struggles against Trump's attacks by ordinary people, film can play a powerful role in reflecting and amplifying those struggles, and in assuring oppressed people that their lives are worthy of being documented, understood and empathized with.
As playwright and Moonlight screenwriter Tarell Alvin McCraney said while accepting the Oscar for Best Adapted Screenplay: "This goes out to all those Black and Brown boys and girls, and non-gender conforming--who don't see themselves. We are trying to show you--you and us--so thank you. This is for you."