Will school end early in Chicago?
March 8, 2017
Rahm Emanuel's administration is threatening to end school three weeks early, but the resources are there to solve the funding crisis, writes Chicago teacher Mike Shea.
CHICAGO IS one of the wealthiest cities in the country.
But in a letter to parents issued late last month, Chicago Public Schools CEO Forrest Claypool threatened that the city's schools may close three weeks early, on June 1 instead of June 20, unless the state resurrects a $215 million education funding package vetoed last December by Illinois' Republican Gov. Bruce Rauner.
As a result of that veto, the Chicago Board of Education slashed budgets at all of its schools, leading to layoffs and spending cuts that hit everything from teachers to support staff to wraparound programs for students.
But according to Claypool, without a fast-tracked ruling from a Cook County judge on a lawsuit requiring action from the state, still more cuts are needed--so school would have to close schools three weeks early.
However shocked and angry CPS officials may appear, they had a big hand in creating this mess. Last summer, Mayor Rahm Emanuel's handpicked Board of Education passed a budget on the "assumption" that the $215 million package to cover a huge shortfall would pass the billionaire governor's desk.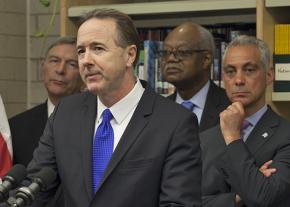 CPS teachers, staff, students and families have been waiting ever since for the other shoe to drop. Rauner, a hedge fund operator whose program as governor is to smash what's left of organized labor's power, continued with his refusal to sign any budget legislation unless it accepts catastrophic spending reductions and anti-union measures.
Emanuel, Claypool and CPS are trying to build pressure behind a compromise supported by state Democratic leaders that would cover some of the shortfall, but still keep the pressure on the Chicago Teachers Union (CTU) to accept massive concessions, while the drastic cuts at schools remain on the books.
Ending the school year early would rob teachers and staff of almost two paychecks, while extending the unpaid summer period by almost a month. Needless to say, teachers are furious about the imposed hardship, and families are concerned about the education and safety of their children.
But for CPS teachers, it's vital to look to the movements around us as we decide how to organize and fight.
---
EMANUEL FIRST ran for mayor with a promise to extend the school day in Chicago schools, which he had the gall to justify as a civil rights issue of providing a quality education to the mainly Black and Latino students of the public school system.
Now, after countless school closings, budget cuts and attacks on teachers, the people of Chicago know better.
The threat of closing school three weeks early can accomplish several goals for Emanuel and CPS, but it also exposes a vulnerability.
CPS and the mayor's office have been trying to build up credibility by posturing as defenders of the city's most vulnerable populations against the governor's attacks. To blunt anger at Emanuel and Claypool, CPS lawyers filed suit against the state for using a school funding formula that systematically violates student civil rights and underfunds the district.
The injustice of school funding formulas is a longstanding scandal in plain sight--but Emanuel and Co. are latecomers to the issue with their lawsuit.
In fact, days after CPS filed this "civil rights" lawsuit, the entire CPS Latino Advisory Committee resigned in protest because the austerity managers slashed the budgets of Latino schools at twice the rate of mostly white schools. In response to the outcry, CPS restored some, but not all, of the funds at select schools.
CPS principals were recently instructed to deny access to school buildings for federal immigration agents unless they have a criminal warrant.
This is certainly a bold and welcome move, but we shouldn't ignore the fact that Emanuel--who was chief of staff to Barack Obama as the Democratic president ramped up the deportation machine to unprecedented levels--is attempting to use the threat of ICE raids under Trump to pose as the defender of students that he clearly isn't.
We should demand that Emanuel prove his commitment to making Chicago a sanctuary for immigrants--but resist any attempt to deflect attention from Emanuel's power to solve the CPS funding crisis right now, by using funds from the Tax Increment Financing (TIF) slush fund under his unaccountable control as mayor.
To avoid a strike by teachers last fall, the city agreed to a contract that acknowledged what the CTU has long maintained--that Emanuel could find the money for a just teachers' contract and improve all schools by dipping into the huge TIF slush fund of siphoned-off property tax revenues and controlled by the mayor alone to shower money on wealth real estate developers.
Emanuel could do much more beyond putting TIF money back into the schools it was diverted from.
When he became mayor in 2011, he eliminated the "head tax" that charged Chicago businesses with more than 50 employees a $4 fee per employee. Around 2,700 Chicago companies paid the "head tax" in 2009 and 2010, contributing approximately $35 million in city revenue. The CTU proposes that Emanuel could solve the CPS crisis by reinstating and increasing the head tax on the city's richest businesses.
This is among the solutions put forward by the Chicago Teachers Union, which argues that the city's schools are "broke on purpose."
---
NOW, WITH the bitter opposition to the new Trump administration mobilizing large numbers, there is a chance to broaden the fight for public education in Chicago even further.
On the same day that CPS sent its June 1 school year threat to parents, Donald Trump announced his proposal to increase military spending by $54 billion--to be paid for by cuts from other programs. The Education and Energy Departments, as well as programs to provide food assistance to needy families, will be at the top of the list for draconian cuts.
Recognizing the connection between Trump's accelerated austerity drive and the demands for cuts from Emanuel could be the basis for an even broader campaign for the schools and communities our students deserve.
People committed to the education justice movement--whether teachers, students and parents, or community members--have an opportunity to connect with new activists and forge alliances with new formations so that together, we can demand real solutions.
That was certainly clear after 250,000 people marched in Chicago's streets for the Women's March on January 21--with plenty of teachers and students among them. We've also seen an upsurge of protest in solidarity with refugees and immigrants that led to a shutdown of terminals at O'Hare Airport.
The problems we face aren't a mystery. We know who will pay the price and who is to blame--and we know more people than ever are ready to take action in order to confront those problems.