Will the Democrats ever stand for something?
June 1, 2017
If Democratic Party leaders want to be an alternative to the Republicans, they sure have a funny way of showing it, writes Elizabeth Schulte.
HILLARY CLINTON resurfaced last month from her long post-election hibernation with a message: "I'm back to being an active citizen--and part of the resistance."
And just so everybody knows, if it hadn't been for Russian hackers and FBI Director James Comey bringing up her e-mails, "I'd be your president," she told CNN's Christiane Amanpour.
Considering the crisis of the Trump administration right now, the Democrats' claims about Russian meddling in the election look more believable than before. But as for this losing the election for Clinton, it's a lot more complicated than that.
And as for Hillary Clinton being part of a "resistance," well...come on now.
All the Russian meddling in the world wouldn't change the fact that core supporters of the Democratic Party didn't turn out for Clinton because she represented everything they didn't like about Washington politics--a devoted servant of Corporate America and the political establishment's status quo.
So even though she won the popular vote by nearly 3 million, Clinton let Donald Trump, the anti-immigrant, misogynist, Islamophobic billionaire, get close enough to steal an Electoral College victory because the Democrats offered so little for voters to turn out for.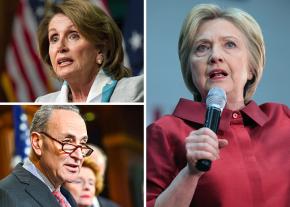 ---
DESPITE THIS, the Democratic Party--which ought to be in a good position to challenge a politician as unpopular as Trump--is still debating what it should do next. Some party leaders are concluding this isn't time to lead, but time to start compromising on key issues.
Issues like abortion.
In April, the Democratic National Committee (DNC) threw its support behind Omaha mayoral candidate Heath Mello, a self-described "pro-life" Democrat.
After a storm of criticism from pro-choice forces, including NARAL Pro-Choice America, DNC Chair Tom Perez--who appeared on a stage with Mello alongside Vermont Sen. Bernie Sanders--was forced to publicly reaffirm the party's support for women's right to choose.
But some Democrats didn't get the memo.
House Minority Leader Nancy Pelosi made sure instead to emphasize that, yes, the party welcomes anti-choice Democrats. "It's kind of fading as an issue," Pelosi told the Washington Post. "It really is." Pelosi advised Democrats to concentrate more on the issues that affect "working families."
Of course, abortion isn't a fading issue--the Republicans have made sure of that by successfully restricting women's access to abortion services in dozens of states.
Furthermore, characterizing reproductive rights as an issue that "working families" don't care about--in a country where one in three women have an abortion, many likely in "working families"--is out of step with reality.
Support for abortion rights is one of the main issues that at least rhetorically distinguished the Democrats from the Republicans, and now at a time when it's so important to take a side, party leaders are discussing whether it might alienate voters they want to attract.
"You know what?" Pelosi said to the Post. "That's why Donald Trump is president of the United States--the evangelicals and the Catholics, anti-marriage equality, anti-choice. That's how he got to be president. Everything was trumped, literally and figuratively, by that."
---
SO UNDERLYING this dispute about whether abortion is a Democratic issue is another discussion about what the party has to do to win over the audience of people who were attracted by Trump's populist campaign rhetoric in 2016. Leading party figures are opting to downplay so-called "social" issues, like abortion, racism or LGBTQ rights, in favor of "economic" issues.
This warped view of who workers are--the workforce is disproportionately female, people of color and LGBTQ people--and what their concerns include reveals how out-of-touch Democrats are with the people who vote for them. It's also the case that even by these wrongheaded standards, the Democrats' populist economic rhetoric is no better in practice for working people than Trump's.
The fight over health care is an excellent example. In May, House Republicans went after the Obama administration's Affordable Care Act (ACA), voting for a plan that would eliminate some of the few positive aspects of Obamacare, such as the expansion of Medicaid and a guarantee of coverage for people with pre-existing conditions.
And what was the reaction from Democrats? Something close to rapture. The party that claims to stand for working people stood by and watched as Republicans shredded the ACA in the hopes that this would fatally damage the Republicans with voters.
While most human beings reacted with shock and outrage, Democratic leaders celebrated the fact that the Republicans' nightmare might help them win a victory in 2018 congressional elections. Democratic strategist Caitlin Legacki summed up the strategy to the New York Times: "Our best shot at stopping the Republicans has always been to let them cannibalize themselves, and this proved that."
Meanwhile, as Democrats cheered on the Republicans' passage of Trumpcare, real people with real health care needs face the daily threat of not being able to afford to get well.
Trumpcare is highly unpopular--only 17 percent of the population said it supports repealing and replacing Obamacare with the Republican plan, according to a Quinnipiac Poll. But there is growing frustration with Obamacare, too.
Obama's health care plan may have included some important reforms, but it also kept in place the worst aspects of for-profit health care, and the result was that insurance became even more expensive for workers.
When Trump and the Republicans threatened to make health care even more inaccessible, they gave Obamacare and the Democrats a lifeline, at least as far as public opinion is concerned. In this context, many people felt they had no choice but to defend the lesser-poison status quo of Obamacare.
Democratic politicians are making similar political calculations when it comes to protecting immigrants under attack from Trump's new amped-up deportation regime.
In April, as state lawmakers debated making California a "sanctuary state" to stand up to Attorney General Jeff Sessions' threat to cut off federal funding to states that didn't cooperate with ICE and immigration enforcement, some Democrats were cautioning against going too far.
"It may feel good to take certain actions, but that could result in real hurt on the ground," Los Angeles Mayor Eric Garcetti told the New York Times. "My responsibility is to make sure that I bring resources back to my city that come from tax dollars we send to Washington."
"The civil rights movement was not won by calling Bull Connor a racist," Garcetti said. "He was a racist. But it was won by saying we should be at that lunch counter."
Garcetti is forgetting the most important thing that happened at those lunch counters: protest.
---
IF GARCETTI'S strategy of concede and retreat sounds familiar, that's because it is. The Democrats used the same strategy during Election 2016--when they nominated Hillary Clinton, the status quo candidate with a history of serving wealth and power, as the candidate they were sure would win easily against Trump.
The party behind Clinton's "campaign of militant complacency," as author Thomas Frank put it, never even considered that the people who actually vote might be dissatisfied with the status quo she embraced.
In other words, at a time when many people are looking for more radical solutions, the mainstream Democrats are offering something that's even further to the right of what already exists. And since they won't actually stand for something, they continue to fall back on the fact that Trump and the Republicans are just worse.
This reality will lead even the best activists--people who care about changing the world a thousand times more than Nancy Pelosi--to conclude that the most important thing we have to do in the next year is get more Democrats into office, no matter what the compromise.
Thus, Bernie Sanders, who himself is staunchly pro-choice, reached the same conclusion as Pelosi that not every Democrat has to be pro-choice to get his support.
The Democratic Socialists of America unfortunately succumbed to this pressure too when it issued a statement in response to Sanders' support for Heath Mello in Omaha that refused to take a stand and instead advised its members to "trust our grassroots."
But trusting the grassroots means taking a stand for its political concerns.
It goes without saying that Hillary Clinton isn't part of any "resistance." There is, however, a resistance being built. It had its beginnings before the 2016 election, but having Donald Trump in the White House has led more people to think about that we need to get ourselves organized.
Many people will look to the Democratic Party to take the lead in the anti-Trump opposition, but the Democrats haven't yet, and show no signs at all of doing so. We have to take part in grassroots organizing that stands up to the attacks of both Republicans and Democrats--and that offers an alternative to the status quo Washington politics we're expected to accept.