, and
We are defending our clinics
October 23, 2017
OPPONENTS OF women's right to abortion are midway through their "40 Days for Life," a series actions in which evangelical Christian anti-choicers gather in front of women's clinics around the country to pray, fast and harass women and clinic staff in an attempt to disrupt the clinics and ultimately end women's access to abortion.
But these anti-women bigots aren't going unopposed.
Supporters of reproductive justice in several cities are organizing clinic defenses to show the far right that they aren't welcome. On October 14, pro-choice activists turned out to defend two clinics in New York and Chicago--and show 40 Days for Life that their time is up.
---
IN NEW York City, members of NYC for Abortion Rights gathered at 6:30 a.m. outside the Bronx Abortion Clinic, which has been the target of anti-choice harassment for some time, but was expected to be under greater attack for the 40 Day for Life.
Pro-choice counterprotesters numbered some 60 at the height of the clinic defense. They held large letter signs spelling out the message "Trust Women" and wore patches sporting the same message. Other clinic defenders carried signs stating, "Abortion is health care. Health care is a right" and "My body, my choice."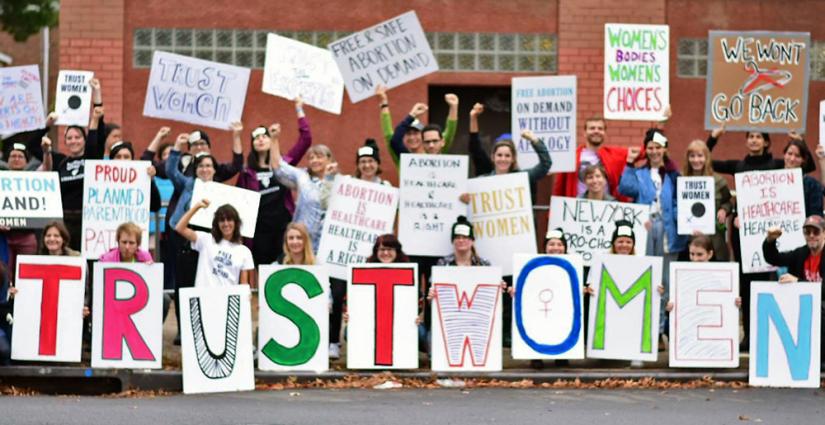 The harassers, on the other hand, carried fake bloody fetus images and signs that read, "Pray to end abortion."
NYC for Abortion Rights arrived before most of the anti-choice protesters and occupied the space on the sidewalk in front of the clinic. When anti-choice protesters began praying, the counterprotesters chanted "Stop harassing women," which frustrated many of them.
The police, who mobilized for the event because counterprotesters were planning to be there, eventually forced the anti-choice protesters to stand on the opposite side of the street from the clinic.
This was a victory, as the street was quite wide, and this separation put significant distance between the harassers and the patients they were seeking to intimidate.
A small group of aggressive "sidewalk counselors"--bigots who harass patients and try to convince them not to go into the clinic--continued to occupy space in front of the entrance, but pro-choice counterprotesters blocked their access to patients, without engaging in physical contact.
After these confrontations, however, the cops set up a "frozen zone" around the entrance to the clinic, which meant that all protesters, both pro-choice and anti-choice, were removed behind barricades. This included the sidewalk counselors, who were extremely frustrated to have their access to patients cut off.
The implementation of the frozen zone was also a win for NYC for Abortion Rights since it meant that patients could walk the last 15 feet toward the clinic without facing harassment.
The clinic escorts commented that it was much easier to get patients into the clinic while the defense was happening than on other days. They also remarked that on past Saturdays, they had experienced significant trouble and aggression from some of the sidewalk harassers, and that it was much easier when patients were protected from this group.
All of the patients were able to enter the building without incident, and not a single appointment was missed.
The event concluded with a powerful speak-out in which participants talked about their own abortions, what brought them out to the clinic defense, and why they believed abortion was an essential part of reproductive health care.
One speaker commented that she had felt skeptical about the tactic of organizing clinic defenses, but that after attending this one she realized their efficacy and importance.
Kate Castle, a member of NYC for Abortion Rights and one of the organizers of the defense, said, "I was inspired by the energy of our clinic defense." Castle noted that the defense was "extremely successful" and that it demonstrated in action that "when we turn out and fight for ourselves, we can win."
---
IN CHICAGO, some 50 pro-choice activists turned out in the driving rain to defend the American Women's Medical Center from the 40 Day for Life.
In past years, 40 Days activists have set up near busy downtown train stations with their 12-foot boards of gruesomely fake abortion photos. This year, however, they decided to directly attack clinics and abortion-seeking patients, a move that is a sign of the broader trend of an emboldened far right.
Before the action, a public organizing meeting held at DePaul's Lincoln Park Campus brought together students and longtime clinic defense activists to talk about how to organize to defend the clinics.
With larger clinic defenses erupting in New York and other cities, it is apparent that there is a willingness to come out against "pro-life" bigots and build a new resistance that can defend women's rights to bodily autonomy and access to health care.
The 50 clinic defenders who turned out on October 14 easily outnumbered the eight anti-choice protesters and drowned out their prayers with chants of "Back alleys, no more, abortion rights for rich and poor" and "They say go back, we say fight back!"
DePaul's student contingent brought a banner reading, "Abortion rights on demand." The rally lasted for three hours in the pouring rain, even if our homemade signs did not.
Several organizations were represented, including the Campaign to Expose Crisis Pregnancy Centers, DePaul Students for Reproductive Justice, Illinois Choice Action Team (ICAT) and International Socialist Organization, but much of the crowd were newly radicalized protesters who didn't come with an organization. Many were students from different universities across Chicago.
Many passersby gave horn honks, thumbs up or cheers of affirmation. A few people even paused their commutes to join in despite the rain.
The clinic defense was a considerable success, with the pro-choice rally outnumbering the anti-choice protesters at 5 to 1. The large number of people who had never been to a clinic defense before shows the potential for mobilizing people behind a loud, activist defense of our clinics.
Members of groups like ICAT, which haven't supported clinic defenses in the past, joined the defense this time around. This shift, along with the growing number of new faces at protests, could help build a readily available network of people in Chicago who aim to rally against the continued attacks on our reproductive rights.