The NFL owners who would rather lose
January 9, 2018
The fact that several teams chose to fail rather than sign Colin Kaepernick is a scandal that goes beyond winning and losing, writes TheNation.com sports editor Dave Zirin.
THE NATIONAL Football League holds itself up as the ultimate meritocracy. It's one of the core values of "the shield." If you can play, you are "the next man up." This is both a central part of their branding and a handy justification when signing players who have been convicted of violent crimes, particularly against women. Again, it's their corporate catechism: If you have the ability, there is always a second chance waiting for you on an NFL field.
That is why the sports story of 2017 was how many NFL teams chose to flush their seasons, screw their fan bases, and gut the local economies that had lavished them with taxpayer dollars rather than sign free-agent quarterback Colin Kaepernick. In 2016, Kaepernick threw for 16 touchdowns and had only four interceptions for a terrible 49ers team while leading the NFL in yards per carry. He also was given his team's courage award after fully embracing community service, local organizing, and the tactics of political resistance, famously protesting police violence during the anthem. His coaches loved him. His teammates loved him.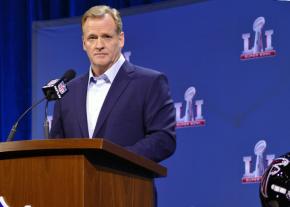 NFL owners and executives, as well as the guy they bankrolled in the Oval Office to cut their taxes? Not so much.
At the start of the season when Kaepernick was unsigned, NFL Commissioner Roger Goodell said it was just a matter of time before he found a home. He commented in September, "When teams have a need and teams feel like they can get better by a particular individual, whether they know the system, or whether they have more talent, or whatever it may be, that's what they do. And I'm still convinced that he'll get that opportunity when the right opportunity comes along. That's what our league's all about."
No, it's not, and the lost season of Kaepernick's prime--as well as the abandoned seasons of several hopeful franchises--has proven this in brutal fashion.
---
DESPITE A desperate need for his services, these multibillion-dollar corporate entities made the decision to tank rather than sign him to a contract. People have already lost their jobs as head coaches and general managers because they chose--or were ordered--to put awful or unprepared quarterbacks under center rather than field the best possible team.
The Houston Texans were 3-4, still in the hunt with a terrific defense and top skill players, but then they lost brilliant rookie dual-threat quarterback Deshaun Watson to a torn ACL on November 2. This would have been a prime landing spot for Kaepernick. The team instead chose to put in the overmatched Tom Savage and some other assorted backups and went 1-8 after Watson's injury. Savage had a 71 quarterback rating. Last year, Kaepernick's rating was 91.
The most news that the Texans made this year was when team owner and right-wing billionaire Bob McNair described protesting players as "inmates running the prison." That's their chosen legacy for 2017.
The Green Bay Packers were 4-1 when star quarterback Aaron Rodgers was smashed into the turf by Vikings linebacker Anthony Barr, effectively ending his season. Kaepernick was someone who could have come onto that team and kept them competitive. Instead, they finished the year 3-8, a record which included being shut out twice. One of their wins was in overtime against the 0-16 Cleveland Browns. The Packers chose to lose with a painfully overmatched Brett Hundley at quarterback rather than sign Kaepernick. Their general manager and several assistant coaches have now been fired. Also, the head coaches of the Texans and Packers, Bill O'Brien and Mike McCarthy, are now going to be deposed in Kaepernick's collusion lawsuit against the NFL.
But it wasn't just these teams that took a pass on winning in 2017 rather than bringing Kaepernick in for even a damn tryout.
The Miami Dolphins lost their starter Ryan Tannehill for the season so they brought in 34-year-old retired cigarette aficionado Jay Cutler out of retirement to play QB. They ended the year 6-10. The Arizona Cardinals were 3-3 when their QB, Carson Palmer, went down, and chose to go with Blaine Gabbert, a player Kaepernick beat out in San Francisco the previous year, and then Drew Stanton. They finished 8-8. Their quarterbacks averaged a 68 rating, and now their head coach, Bruce Arians, is retiring.
Most egregious were the Denver Broncos, who chose to have three people named Trevor Siemien, Brock Osweiler, and Paxton Lynch play quarterback, wasting a year of star defensive player Von Miller's prime. Two years and 100 political lifetimes ago, team president John Elway wanted to sign Kaepernick. But this year, he went with the three quarterbacks with an average QB rating of roughly 72. They went 5-11, just two years removed from winning it all. Also in 2017, Elway wrote a letter on team stationary in support of Neil Gorsuch's nomination to the Supreme Court. Sports and politics were fine for Elway, but not for his quarterback.
I could go on, other teams and other moments, where NFL owners chose to put an inferior product on the field and spit in the faces of their fans rather than sign someone who could have done something he had done in the past: take a team to the Super Bowl.
---
THIS MATTERS not only because it reveals the moral rot of a league that would sign abusers of women before people who have given time and money to organizations that empower women, or a league that lives in fear of the tweets of a racist autocrat with a 32 percent approval rating. It matters because so many of the above cited teams have stadiums at least partially built on the public dime. Whether you are a sports fan or not, you are subsidizing these organizations. By fielding an inferior product, that means fewer fans in the seats, fewer people in the bars and restaurants, fewer rooms filled at the hotels. It means that the always exaggerated bang-for-your-buck that comes from subsidizing a stadium was muted just so NFL owners could send a shot across the bow to other players that political talk would not be tolerated. Of course, all they did was spur more resistance.
Kaepernick's current collusion lawsuit against the NFL should not be complicated. It should be as basic as showing videotape from the 2017 season and asking the question, "Why would multiple NFL teams with playoff hopes willingly choose to tank rather than sign me? Why was Tom Savage put under center only to be concussed?" To even ask the question is to answer it: The Bob McNairs and John Elways of the world hate the idea of a freethinking, openly anti-racist player more than they love the idea of winning a Super Bowl. That damns this league as much as hiding concussion data and ignoring instances of violence against women. It's more evidence that the league's moral compass points in one direction: It's not toward money and it's not toward winning. It's toward remaking this country in their political image: An image where billionaires make the decisions and the rest of us just shut up, work, and salute on demand.
First published at TheNation.com.