and
A #MeToo moment at UW-Madison
March 5, 2018
Dayna Long and Brook Tylka report from Madison on a breakthrough for a struggle at the University of Wisconsin to make sure that sexual violence is punished.
A SEVERAL-year-old campaign to hold a serial rapist accountable at the University of Wisconsin (UW) in Madison ended last month with Alec Cook accepting a plea deal and pleading guilty to five of the 21 sexual assault and other charges against him, made by 11 different women.
The announcement came one month short of three years since the earliest known sexual assault allegedly committed by Cook took place.
Victims initially began coming forward to report their experiences with Cook in October 2016. On October 18, Cook was arrested on four counts of second degree sexual assault, with additional charges including strangulation, false imprisonment and three counts of battery.
Following these horrendous revelations, students and community members didn't hesitate to take action. The International Socialist Organization called a march that was held on November 9, the day after Donald Trump won the 2016 presidential election.
More than 500 people attended the march to express their disgust both about Cook situation and about Trump, a self-admitted sexual harasser and accused rapist, being elected president. The march ended in a speak-out in which students and community members relayed their own experiences with sexual harassment and assault.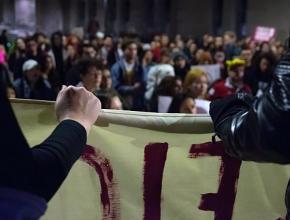 Nearly a year after the march at UW, #MeToo erupted onto the scene, delivering very real consequences for have engaged in sexual misconduct, starting with Hollywood's Harvey Weinstein, but moving on to the halls of Congress and beyond.
People across the world began sharing their experiences of sexual harassment and assault, as well as showing support for survivors. This movement helped to demonstrate the magnitude of the problem.
#MeToo opened the way for accusations of harassment and assault to be taken more seriously and urgently than in the past--which had an effect on the Cook case. Now, he is admitting to his abhorrent crimes.
It would have been preferable for Cook to admit guilt in every case, but the nature of the legal system made this improbable. Prosecutors were originally going to split the large number of allegations into seven different trials, prolonging the process and delaying justice for the survivors.
Additionally, some of the prosecution's evidence--including a notebook in which Cook detailed his plans and actions--was ruled inadmissible in court on technical grounds, due to the manner in which there were obtained.
So Cook will not receive a guilty sentence for all the charges against him, but the judge will be able to consider the other charges when sentencing Cook, which is expected to take place around May.
---
ALL TOLD, this should be seen as a victory for student activists at UW and the #MeToo movement. Students can look to #MeToo generally and the Cook case in particular as examples of how quickly things can change when people are drawn into political action of one kind or another.
But this isn't the end of the fight against sexual violence at UW.
Within the past two months, new allegations have been raised about sexual harassment in the Sociology department at UW-Madison. After previously being ignored and brushed aside, students have been communicating with the chair of the department about measures to prevent further instances of harassment.
UW students are organizing for a noon speak-out on International Women's Day, March 8, where they hope that the demands of students in the Sociology Department can be addressed, alongside concerns about racism and sexism on campus and beyond.
Students should view this organizing as a part of challenging the university and its response to sexual misconduct--but also the underlying sexism that empowers men like Alec Cook to hurt women on campus.
The International Women's Day rally for a feminism for the 99 Percent will be another important chapter in making our campus a safer place for all women.