Congress finds another way to punish children
June 27, 2018
High levels of child poverty already make the U.S. an embarrassment among wealthy countries — but Republicans are out to make matters worse, writes Samantha Wyman.
IN YET another display of federal government cruelty toward poor families, the House of Representatives passed a bill last week that would impose devastating rules on those receiving food stamps.
Under the House farm bill (H.R. 2), the one in eight people who currently receive food stamps — officially known as the Supplemental Nutrition Assistance Program (SNAP) — would face harsh work requirements, increased monitoring and loss of benefits over the long term.
The Senate is expected to vote this week on its own farm bill, which doesn't include the harsh restrictions on food stamps. If it passes, that would set up a battle between the two chambers over the annual farm bill — with the Trump administration siding with the House reactionaries.
Trump snidely celebrated the House's cruel food stamp provisions as good for farmers, tweeting, "Farm Bill just passed in the House. So happy to see work requirements included. Big win for the farmers!"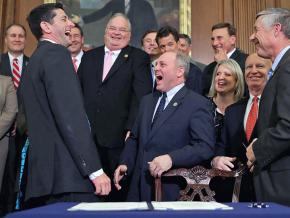 The levels of hunger and poverty in the richest country in the world are despicable. Fully 41 million people — including 13 million children — live in households categorized as "food insecure." One-quarter of these households have incomes of 185 percent or more of the absurdly low poverty line, so they are ineligible for federal hunger-relief programs.
The impact on children is particularly destructive. Just over half of school-aged children receive free or reduced-price school lunches, but only a small number have access to lunch during the summer. No national program exists to close the gap for kids experiencing hunger when school is out.
The food stamp provisions of the House farm bill would make these already harsh conditions even worse.
As the Center on Budget and Policy Priorities (CBPP) explained, the House legislation would require any adults who are not disabled or raising a child under 6 to work a job or participate in a work program for at least 20 hours a week to receive benefits.
Recipients would be required to document their work each month, raising the burden of necessary paperwork to maintain benefits, according to the CBPP. Caregivers would face steep requirements to prove that the person needing care is "incapacitated."
Sanctions for violations are extremely harsh, leading to a loss of benefits for up to three years at a time. Plus, the legislation requires single parents to enroll in a federal child support enforcement program.
CBPP researchers conclude anticipated cuts to SNAP benefits could reach as high as $20 billion over 10 years. All told, the House legislation would eliminate benefits for more than 1 million households, including more than 2 million people.
---
AS WITH the Trump administration's inhumane "zero tolerance" policy directed at migrant families at the border, these proposals reveal the utter contempt that those in power have for the millions of poor people in America today.
Just as detentions and deportations underscore the criminalization of people who are only seeking a better life for themselves and their families, the House's food stamp proposals would punish people who are desperately trying to navigate onerous rules to survive.
That was the conclusion reached by the United Nations Special Rapporteur on extreme poverty and human rights, which in May issued a sharp indictment of U.S. policies that condemn millions to hunger:
The United States is alone among developed countries in insisting that, while human rights are of fundamental importance, they do not include rights that guard against dying of hunger, dying from a lack of access to affordable health care or growing up in a context of total deprivation.
The UN report lays out the underlying realities that guarantees the work requirements for food stamp recipients would be devastating if they become law.
[T]he job market for such people is extraordinarily limited, and even more so for those without basic forms of social protection and support. The case of Walmart, the largest employer in the United States, is instructive. Many of its workers cannot survive on a full-time wage in the absence of food stamps.

This fits in a broader trend: the share of households that, while having earnings, also receive nutrition assistance rose from 19.6 percent in 1989 to 31.8 percent in 2015. Up to $6 billion annually goes from the Supplemental Nutrition Assistance Program and other public assistance programs to support workers in firms like Walmart, providing a huge indirect subsidy to the relevant corporations.

Walmart lobbied heavily for tax reform, from which it will save billions, and then announced it would spend an additional $700 million in increasing employee wages and benefits for its workers. But the resulting rise in the debt of the United States, due in part to the tax reform, has then been used to justify a proposed 30 percent cut in Supplemental Nutrition Assistance Program funding over a decade.
The Trump administration's response to the UN report is equally revealing: U.S. Ambassador to the UN Nikki Haley slammed the report as "misleading and politically motivated," saying that it was "patently ridiculous for the United Nations to examine poverty in America."
Just two days before the report was delivered to the UN Human Rights Council, Haley announced that the U.S. was withdrawing from that body.
Haley's protests to the contrary, the U.S. government's treatment of its poor — and especially its poor children — is appalling. Among the world's wealthiest countries, the U.S. is, by any number of measures, one of the worst offenders in terms of consigning families to poverty and misery.
And now the Republican reactionaries of the U.S. House of Representatives — with Donald Trump cheering them on — want to make the misery even worse.