Chicagoans show they're hungry for change
March 6, 2019
Percy Hatcherson explains the backdrop to recent elections in Chicago and what they mean for future organizing.
IN A city notoriously plagued by a powerful, seemingly unshakeable political machine, this election season in Chicago felt different from the start.
Corruption scandals that are noteworthy even for Chicago have dominated the local news media for the past several months. Broadly speaking, with some notable exceptions, the February 26 municipal elections showed that the voting public's frustration with the city's political establishment is starting to hit a fever pitch.
It wasn't just about corruption, though. The elections also proved that more Chicagoans are fed up with a neoliberal consensus of privatization and police that has governed at City Hall since Richard M. Daley became mayor in 1989.
Socialism was a real force in the City Council elections, more so than at any time since the era of socialist Eugene Debs over a century ago. Four out of five Democratic Socialists of America-backed candidates either won their races outright or got into runoff elections, which are scheduled for April 2.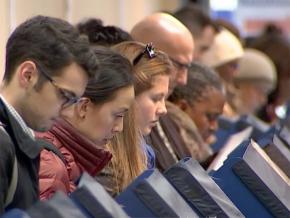 This includes Jeannette Taylor, who doesn't identify as a socialist but is a longtime anti-gentrification activist on the South Side. Taylor was part of a hunger strike against school closures and is now preparing for a runoff in the 20th Ward.
Another name familiar to SW readers is Rossana Rodriguez, an independent socialist candidate backed by DSA and the International Socialist Organization, who won a plurality of votes in the 33rd Ward and forced a runoff with Deb Mell, a politician with deep connections to the Democratic Party machine.
Mell's family has a 40-plus year history of political power at both the city and state levels, and she is now in real danger of losing the seat her father held from 1975 until his retirement in 2013. Rossana's campaign has been about housing for all, saving public education from privatization and cutbacks, ending reliance on the police for public safety and making Chicago a real sanctuary city.
While Mell depended on real-estate developer money, the strength of Rossana's openly socialist campaign was volunteer support, building upon the grassroots organizing that she and her supporters have been a part of in the neighborhood and are committed to continuing to build long after the elections.
These issues have resonated with voters in the ward, and if Rodriguez and her supporters win a victory in the April runoff — the first time there has been a runoff in the 33rd Ward since the 1930s — this could become a forceful pull to the left on the city's agenda under a new mayor.
---
IN ADDITION, some entrenched incumbents lost to more progressive challengers — such as the 49th Ward's Joe Moore, easily defeated by United Working Families-endorsed progressive Maria Hadden; and Joe Moreno, who went down in the 1st Ward, where he has presided over gentrification that has displaced working-class residents.
Voters also made it clear that they didn't want another Daley in the mayor's office.
Despite being the clear favorite of business, with endorsements from Crain's and the Chicago Tribune, as well as the most money of any candidate in the race (much of it from Illinois' richest man Ken Griffin), Bill Daley — younger brother of Richard M. and a Democratic Party powerbroker who served in the Clinton and Obama administrations, didn't get enough votes to make the runoff as polls predicted he would.
After a race involving 14 candidates, including Daley, former police Superintendent Garry McCarthy and former Chicago Public Schools CEO and privatizer Paul Vallas, Chicago is now poised to elect its first Black woman mayor.
In response to Chicago voters' thirst for change, Toni Preckwinkle and Lori Lightfoot are attempting to show their progressive sides in preparation for the April runoff, even though their records show otherwise.
While Preckwinkle has touted her opposition to Rahm Emanuel's school closures and her support for police reforms, as Cook County Board President and Democratic Party insider, she is responsible for pushing through regressive anti-working-class measures like a sales tax and pension "reform" proposals based on forcing county workers to contribute more.
Lightfoot is a former federal prosecutor and head of the Police Accountability Task Force, a toothless replacement for the discredited Independent Police Review Authority that only came about because activists took the streets to protest the police murder of Laquan McDonald.
There were six Black candidates in the mayor's race, and neither Preckwinkle nor Lightfoot were the favorites of Black voters in the first round of elections. Entrepreneur Willie Wilson got the highest percentage of Black votes in the city and the fourth most votes overall.
---
GIVEN THE outcome of the elections, it's worth looking at some of the major issues that have shaped the political climate in the city, and how they have contributed to the moment we're in right now.
Similar to Mayor Daley's swan song when leaving office — a disastrous privatization deal that sold off the city's parking meters to a private company — Emanuel is now attempting to jam through a massive new tax increment financing (TIF) deal that would provide at least $900 million in subsidies to Sterling Bay, a big private developer.
The project is called Lincoln Yards and will include high-rise luxury apartments and condos, office space, retail and entertainment, all located between the Lincoln Park and Bucktown neighborhoods in an old industrial district.
Tax increment financing, or TIF, districts are a way to divert increases in tax revenue to the pet projects of the mayor, when it would otherwise go to things like schools and parks. Supposedly intended to spur development in poorer neighborhoods, TIF districts in practice are used almost exclusively to fund projects that benefit the wealthy at the expense of the poor.
Fourteenth Ward Alderman Ed Burke is at the center of all of the latest political corruption drama in the city, having recently been indicted for shaking down a Burger King operator on the Southwest Side. This is ironic because it pales in comparison to the harm he has inflicted on the city a powerful alderman for the past 50 years.
Burke counted Sterling Bay as a client for a period of 10 years, including some work on the Lincoln Yards development. Sterling Bay and other large developers use their connections to aldermen like Burke to get out of paying property taxes on their developments, which is just another way that these projects are massive, thinly veiled transfers of wealth from working people to the ruling class.
Additionally, developments like these are detrimental to working-class people living in the surrounding neighborhoods — they drive up rental prices astronomically and push folks out of their homes.
This trend is one of the reasons why the call for lifting the state ban on rent control in Chicago has grown louder from tenant organizations and activist groups recently, and it is playing a large role in many of the city council elections this year.
Amazingly, though, Burke was able to hold onto his seat even in the midst of blatant corruption and a storied history of racism on the council.
---
LESS THAN two years after the video of the police murdering Laquan McDonald was released, Emanuel and his allies in City Council had already set in motion plans for what they call the Joint Public Safety Training Academy in West Garfield Park.
Chicago youth and activists quickly recognized it for what it really is, though: a cop academy. The #NoCopAcademy hashtag and movement was born.
Rahm will be remembered for continuing and expanding the Daley legacy of privatization, including closures of mental health facilities and public schools. A lot of the frequently used justifications for such closures generally have to do with finances and budgetary reasons.
The cop academy will cost $95 million to build, though. So where do they plan to get that money?
The city sold the Lincoln Yards land to Sterling Bay for $120 million back in summer 2017 around the time when plans for the cop academy started to materialize. At least $20 million of that money is marked for the cop academy. So there is a direct link between Lincoln Yards and the cop academy.
Another $10 million for the cop academy would come from a TIF district in the 37th Ward where the facility would be constructed. During the sale of Lincoln Yards to Sterling Bay, the law firm representing Sterling Bay was Alderman Ed Burke's firm.
AECOM is the company selected by the city to build the cop academy. it recently donated to Burke, and it also gave to Emanuel and Preckwinkle. Some of its executives have worked in the Daley administration. One of the things AECOM is known for is the design and management of prisons.
There are other massive giveaways to private developers happening across the city — most notably "The 78" in the South Loop, which is another big TIF district being proposed. There's also the Obama Presidential Center planned for Jackson Park, which has residents of surrounding neighborhoods worrying about displacement due to rising rents.
These projects, along with Lincoln Yards and the cop academy, are all moving forward against the backdrop of the most hotly contested Chicago election season in a generation. The two candidates in the mayoral runoff opposed the cop academy publicly, but neither they nor any other top candidate took a clear stance on the other developments.
---
THIS WAS the widest open contest for Chicago mayor in over a generation, but virtually all of the viable candidates had extensive connections to the corrupt political machine that so many voters have been eager to vote against.
Burke, who was arrested for extorting a Burger King to get more business for his law firm, also pressured one of the Burger King executives to donate $10,000 to Preckwinkle, who is now in the runoff election.
Susana Mendoza, another mayoral candidate who didn't make the runoff, was married at Burke's house by his wife, Illinois Supreme Court Justice Anne Burke. Mendoza has also been supported by Burke in a variety of ways throughout her political career, as well as by Danny Solis, the other corrupt alderman caught up in a scandal closely related to Burke.
Gery Chico, who also missed the runoff, worked for Burke, is close friends with him, and received his endorsement in the mayoral race. As for Daley, the Chicago machine is virtually synonymous with his family name and his connections to it are impossible to count.
Many of the other candidates in the race, such as Lightfoot, claimed to be independent of the corrupt system, but they still have resumes peppered with ties to Rahm Emanuel and the Daley clan.
While egregious, all of this feels pretty familiar. But what feels different about Chicago politics right now is that the willingness of the people to tolerate these things seems like it's starting to fade.
This is reflected not just in the significant uptick in competitive City Council races this election cycle and the success of socialist candidates, but in the recent charter school strikes, the first in the nation's history, and the hotel workers' strike last year.
In a city where education "reformers" like Arne Duncan cut their teeth spearheading privatization efforts, the national importance of charter school strikes as a weapon against that privatization cannot be overstated.
That these victorious strikes against private charter operators came in the same decade as the 2012 Chicago teachers' strike is further evidence that militancy among educators in this city is continuing to spread.
It's no coincidence that as mediocre as they may be, many of the top contenders in the mayoral race this year had platforms that are explicitly skeptical of charter school expansion, including the two who made the runoff.
This is something that was unthinkable when Rahm was running for his first term in 2011 and the school privatization agenda appeared to be moving full steam ahead. Similarly, many mayoral candidates in 2019 support an elected school board, another issue that has been popularized in the public consciousness primarily by teachers' strikes.
The campaign to expose and erase the gang database, which is a racist collaboration between the Chicago Police Department and Immigration and Customs Enforcement to target people of color for deportation and other forms of terror, has been a big factor both on the ground and in the election cycle this year.
It's part of the conversation around making Chicago a real sanctuary city, which has not been the case under Rahm Emanuel.
These are some of the many questions that activists will have to take up in the run-up to elections and organize around as we face either a Lightfoot or Preckwinkle administration.
Elizabeth Schulte contributed to this article.