Where did SYRIZA come from?
May 17, 2012
Greece's Coalition of the Radical Left, known as SYRIZA by its initials in Greek, emerged from small-party status with a stunning second-place finish in national elections on May 6. SYRIZA won mass support, especially among workers, because of its pledge to repudiate the drastic austerity measures imposed on Greece in return for Europe's financial bailouts.
No party was able to form a governing coalition with a majority in parliament, so new elections have been set for mid-June. After the election, SYRIZA came under immense pressure from the Greek and European ruling class to cave on its stand and join a broad coalition government. But it refused to capitulate and has only gained in popularity--opinion polls show it coming in first place in the new elections, which would put it in a commanding position to try to form a government committed to overturning austerity.
Antonis Davanellos is a journalist and leading member of the Internationalist Workers Left (DEA), one of the parties involved in the formation of SYRIZA as a coalition in 2004. In this article written for the May-June 2008 issue of the International Socialist Review, he reported on the first national conference of SYRIZA held a few months before and described some of the parties and forces that made up the coalition.
The SYRIZA conference came after the 2007 elections won by the conservative New Democracy party. In October 2009, new elections put the center-left PASOK in power. It was PASOK that presided over increasingly harsh attacks on government spending, public-sector workers and public enterprises, as the Greek debt crisis deepened. Recently, BBC journalist Paul Mason, author of Live Working or Die Fighting: How the Working Class Went Global, wrote a useful article describing SYRIZA's development up to the current day.
ONLY SIX months after the Greek general elections last fall (September 9, 2007), there is virtually nothing left to remind Greek Prime Minister Kostas Karamanlis that his party, the right-wing New Democracy (ND), won the election.
The political situation has changed dramatically as a result of a wave of protests and strikes involving public-sector workers--in ports, electricity, and airlines--who are fighting privatization and, above all, changes in the social security system. There have been three one-day national strikes--on December 12 and 19, and on March 3--and several public workers' strikes that have shaken up the whole country. These protests have involved record numbers of workers, more than any such struggles in the last thirty years.
The impact of such widespread political opposition to neoliberalism has been dramatic: ND has lost ground at a frenetic pace--from winning 42 percent of the vote six months ago to polling just 30 percent today. However, even more dramatic is the drop of PASOK's support. PASOK is the social democratic opposition, which held power for twenty years until 2004. Polls show PASOK at 28 percent, well below their 38 percent standing during the last election.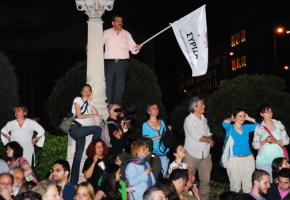 The clear winner in this new situation is the Coalition of the Radical Left (SYRIZA), a party whose standing in the polls has risen from 5.04 percent in September, to more than 18 percent--and pollsters think that this number will increase.
The Communist Party (KKE) has experienced a slight decline in its support, from 8.4 percent in September last year, to 6.8 percent. It is worth noting that the extreme right-wing party LAOS (Popular Orthodox Alarm) has not been able to capitalize on this discontent and has not seen any improvement in its support--which stands at 4 percent.
If these poll figures remain unchanged until the next general election, Greece will face an unprecedented political crisis, since neither one of the two major parties, ND or PASOK, would be able to form a government. There is already talk that the country might move toward a "German model"--forming a coalition government that involves both the right wing and social democrats.
---
SYRIZA HAS proven itself to be a success in political and electoral terms as one of the parties of the European Left. It is not the only example of success. For example, the Ligue Communiste Revolutionaire's (LCR) electoral campaigns in France have been quite successful--although in different circumstances and with different goals.
SYRIZA is probably the only example in Europe proving that the right wing can be successfully confronted and at the same time attract people from the social-democrat orbit. SYRIZA's rise is attributed to that fact that it has managed to gain the trust of thousands of workers--and mostly of young people--who previously voted for PASOK. This represents a massive shift to the left by an essential part of the base for Social Democracy in Greece.
SYRIZA is a type of united front in the political and electoral field. The SYRIZA coalition includes a reformist party (Synaspismos), revolutionary organizations of the far Left (DEA and KOE, a Maoist organization), three more organizations coming from the fracturing of the communist left (AKOA, KEDA, EP), and a group that broke with a small social-democrat party (DIKKI). But, most importantly, SYRIZA has recruited thousands of independents--left-wingers not affiliated to any party.
SYRIZA was created in 2004 on the basis of successful collaboration by its founding members within the framework of the anti-globalization movement, as well as around the work of building the Greek Social Forum in May 2006. The coalition was strengthened in 2007 when SYNASPISMOS, the main component of SYRIZA and an older electoral coalition, changed its leadership at its conference, opting for a "left turn," including opposition to neoliberalism and resistance to the Iraq war and imperialism.
On March 14-16, SYRIZA held its first national conference in Athens. The conference was a great success. The 2,000 delegates to the conference were elected by some 200 local assemblies, in which some 15,000 people participated. The tone of the conference was decidedly in favor of maintaining a radical-left line, and sent a clear message to SYNASPISMOS's leadership that a turn to "moderate" politics was out of the question.
The main topic of the discussion was the proposal made by Alekos Alavanos, the president of SYNASPISMOS, for a "left-wing government with a program based on opposition to neoliberalism and capitalism." DEA, along with many other groups, disagreed with such a proposal, proposing that SYRIZA position itself as an electoral opposition aiming to reverse neoliberal policy. The topic has not been decided and was left open to discussion for the future.
Some matters in relation to the organization of SYRIZA were discussed. It was suggested that coordination committees should be established to recruit the increasing numbers who are moving toward SYRIZA. DEA opposed proposals aimed at converting SYRIZA into a uniform political party, supporting keeping SYRIZA as a united front of independent parties, with its decisions made by a consensus of participating organizations. This proposal was approved.
SYRIZA is proof that an organization with clear left-wing policies, which engages in common action and is democratic and well organized, can provide a popular and effective challenge to the politics of neoliberalism and social democracy.
First published in the May-June 2008 issue of the International Socialist Review.