and
A high-stakes battle over education justice
November 23, 2015
Anthony Cappetta and brian bean report from Chicago as a new showdown looms in the fight for public education: the contract campaign by the Chicago Teachers Union.
CHICAGO TEACHERS are planning for a big downtown rally on November 23 amid the city's threats to lay off thousands of teachers, slash essential programs and shortchange the teachers' union in contract negotiations.
The protest, set for Grant Park near the city's lakefront, is part of a campaign to activate teachers and community members around the ongoing contract battle. Chicago Teachers Union (CTU) members have been working under the terms of the previous contract that expired in June. The CTU recently held a nonbinding straw vote for a strike in order to send a message to Mayor Rahm Emanuel, who controls the city schools.
Chicago Public Schools (CPS) administrators are using every legal means possible to delay a strike until after the school year ends, even as it threatens to lay off 20 percent of teachers to cover a $500 million budget shortfall--part of what CPS says is a $1 billion-plus long-term operating deficit.
The money for an immediate budget fix is tied up in the state legislature, where Illinois' Republican Gov. Bruce Rauner, a hedge fund billionaire, has tied agreements on a new state budget to legislation that would weaken public-sector unions. He's taking aim not only at the CTU, but at tens of thousands of public-sector workers represented by a range of unions.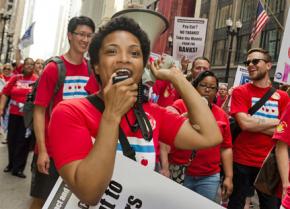 In Chicago, Rauner's union-bashing dovetails with a decades-long attack on the CTU by school board officials and City Hall. While the CTU strike of 2012 was able to hold off an attempt to gut the union's contract, Emanuel and CPS Emanuel kept up their attacks with an unprecedented closure of 50 schools in 2013.
---
FOR THE past decade, an alliance of powerful forces has been doing everything in their power to privatize the K-12 education system and deny people a well-funded public education that should be a human right. That is the heart of this struggle.
Then and now, the attack on schools hits Black and Brown students particularly hard, since their schools are among the most starved for resources. Special education students are regularly denied services in privately run charter schools and forced to attend incredibly under-funded public schools. Students from the South and West Sides--who desperately need more counselors and social workers, smaller class sizes and after-school programs--instead face further threats of school closings.
Meanwhile, veteran teachers just years away from attaining the retirement they earned after years in the classroom are being targeted for firings through a new evaluation system. Every teacher is overworked, stressed out and struggling just to survive the workday.
Across the U.S., several pockets of resistance have been growing among teachers, students and parents. The CTU, under its reform leadership that took office in 2010, has emerged as a leading force against the privatization of public education.
Unfortunately, since the successful strike of 2012, the city has starved the schools by diverting more and more money and resources to charter schools. Officials have also purposefully underfunded teachers' pensions for the past 15 years through "pension holidays"--that is, a failure to pay into financial funds to cover what is due to teachers.
CPS is now using the pension crisis it created to demand that teachers take an effective 7 to 10 percent pay cut, once a wage freeze plus increases in teacher contributions for pensions and health care are added up. This is unacceptable in one of the wealthiest cities of the richest country on earth.
Besides pushing for the pay cut, CPS refuses to negotiate over things like less standardized testing, more teacher autonomy in curriculum planning, a better evaluation system not tied to student test scores, and other issues that would not cost any money to make schools a better place for students. CPS simply wants to use these contract negotiations to further attack the union.
The attack comes at a time when CPS's credibility is at a low point, following the corruption scandal that took down Barbara Byrd-Bennett. The former schools CEO pleaded guilty to a kickback scheme involving contracts that Byrd-Bennett steered to an education consulting firm she used to work for.
But far larger thefts of CPS funds are perfectly legal. There's the draining of revenues through the Tax Increment Financing scheme--essentially a slush fund that siphons funds from schools to bankroll the mayor's pet development projects. Plus, the school district refused to renegotiate lending agreements with big banks that have cost it and the city many millions.
The Chicago Public Schools were, as the CTU puts it, "broke on purpose" in order to use the budget shortfall to push the agenda of privatization.
---
THE SCALE of the attack on public education has led activists to make links with other social struggles. Earlier this fall, African American community activists led a hunger strike that forced the reopening of Dyett High School, a neighborhood school on the South Side. Groups involved in the Black Lives Matter movement, including high school students, are also active in defense of their schools.
Meanwhile, attempts by Rauner to crush government workers represented by AFSCME and to create anti-union "right to work" zones around the state of Illinois have prompted union officials and labor activists to forge links with one another to take on this fight.
The CTU and its allies argue that there is a straightforward way to fix the CPS budget crisis: Tap the wealth of the rich through progressive taxation and levy a transaction tax on Chicago's big financial markets. Failure to do so would open the way to the eventual destruction of public education--a development already seen in New Orleans, where charter schools have completely replaced public schools.
Achieving those goals requires not only supporting the CTU, but building a larger social movement. A big, spirited turnout on November 23 is the next step in that fight.