How do we push sexism back to the fringe?
January 18, 2017
Millions of women and men are disgusted by Trump's casual misogyny, and they make up a not-so-silent majority that can drive a new resistance, writes Elizabeth Schulte.
IT'S THE face of bigotry, of sexual assault, of xenophobia and of contempt for women. And it's also the face of the next president of the United States.
It's hard to find the words to describe the disgust and dread so many people feel about Trump becoming president this Friday. But many tens of thousands will be sending a message of opposition by traveling to Washington, D.C., to protest on Inauguration Weekend and attend the Women's March on Washington. There will many more demonstrations in towns and cities in all 50 states.
The latest revelations about Trump's foul racism and misogyny that seem to appear every week only fuel the feelings of shock and outrage. But Trump's looming presidency is fueling something else: the confidence of vile reactionaries like him.
A Greenwich, Connecticut, Republican politician named Christopher von Keyserling provided a glaring example of Trump's kind of misogyny in December when he grabbed a woman by the genitals and pinched her. This was after an altercation in which he told her, "I love this new world, I no longer have to be politically correct."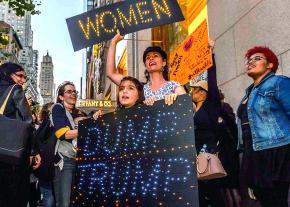 The woman said von Keyserling--who was charged with fourth-degree sexual assault--told her, "It would be your word against mine, and nobody will believe you."
The truth, however, is that many people would believe her. Not because women who have been sexually assaulted are typically treated with justice by police, judges, university administrators and the like, but because there has been a transformation--though a far-from-complete one--in public awareness about sexual assault.
A majority of people doesn't think violence against women is funny or "locker room talk," like Trump and his supporters claimed during the campaign. They take it deadly seriously--because of the impact made by women who have spoken out and organized against it.
While more work is yet to be done, the Neanderthal ideas of the president-elect exist largely among people who refuse to leave the cave, not among the majority of the population.
Much the same can be said about reproductive rights. A January Pew Research Center poll showed that 67 percent of people opposed the overturning of Roe v. Wade, the 1973 Supreme Court decision that made abortion legal.
And about other issues--another recent poll found that 85 percent of those asked whether they believed in equality for women said yes. When asked whether that equality existed, 76 percent agreed with "No, there was more work to be done."
These sentiments are echoed in what people think of Trump himself. A Washington Post-ABC News poll found his favorability rating at a lowly 40 percent--far lower than any previous president-elect since the question started being asked, including George W. Bush, who like Trump, also lost the vote.
Trump may act like his ideas about women are harmless or normal, just like he claims to have a mandate for his reactionary agenda--but none of these things are true.
---
THIS ISN'T to say that we don't have a fight on our hands. We do, and it's a big one.
Despite what the polls tell us about support for women's right to choose, the government--at the federal, state and local levels--is making accessing and exercising that right very difficult. Before the Trump presidency has begun, there are so many restrictions on abortion in various states that it is often difficult for women--particularly poor and working-class women--to obtain an abortion.
In 2015 alone, lawmakers introduced some 400 bills to restrict access to abortion, including mandatory waiting periods and restrictions on women's clinics like the ones that closed facilities across Texas.
It could get worse, as Republican legislators, buoyed by Trump's victory, put further measures on their wish list. At least 46 anti-abortion bills have already been introduced or are pending in 14 states, as of January 12, according to the Guttmacher Institute. Fifteen of them are in Missouri alone.
On the question of women's wages, the gap with men is still very real, and it's not like the Trump administration is going to make it better. The divide is especially stark for Black women, who earn just 67 cents for every dollar a white male earns. Between 2004 and 2014, Black women's wages declined by 6 percent or more in 13 states--primarily states like Ohio that have seen a decline in union and public-sector jobs.
That trend is unlikely to improve on its own under Trump's nominee for labor secretary, fast-food CEO Andrew Puzder, who said of his sexist Carl's Jr. ads: "I like beautiful women eating burgers in bikinis. I think it's very American." Meanwhile, restaurant workers, who are disproportionately women, have hourly wages that are on average 17.2 percent lower than outside the restaurant business.
Meanwhile, along with these legislative attacks comes the threat of right-wing and conservative religious forces emboldened by Trump's anti-women agenda. In the past, they have attempted to impose their will on the streets outside women's clinics--and they could again, unless they are opposed as they were in the past.
---
WHILE THERE may be a majority who support women's rights and oppose all the things Trump and his supporters stand for, that means very little unless they are mobilized.
But over the last few decades, the power of people demonstrating in the streets for women's rights has been shut out in favor of an emphasis on electing representatives into government, primarily Democrats.
"Most mainstream feminist groups have had an attitude of complacency, because for them, what matters is whether a Democrat is in the White House or not," Sharon Smith, author of Women and Socialism: Class, Race and Capital, pointed out in an interview. "But state by state, the restrictions that have been passed tremendously limited women's right to exercise the right to choose, even though it still exists on paper."
There have been important examples of fightback over the last few years.
When women at college campuses faced administrations that refused to take allegations of sexual assault seriously, they organized loud and vocal protests. When Black women--who took the lead in the anti-racist movement for Black Lives--faced brutality at the hands of police, they built marches that demanded "#SayHerName." Just a few days ago, thousands of Ohioans gathered at the state Capitol to protest Gov. John Kasich signing a new attack on abortion rights into law.
These struggles aren't over, and neither is the organizing that has yet to be done. The role these fights play in turning the tide against the domination of right-wing ideas can't be underestimated.
According to Cami Q, who organized against sexual assault at Columbia University:
Activism is key because it's what can change the political landscape and the status quo. When the anti-sexual violence movement was at its height, it put into question the whole system and how women are seen and treated in our society. It opened up a space in which a large amount of people's ideas about sexism and violence against women started to change.

I think you can see that in the response to the Brock Turner case at Stanford University, and Emily Doe's letter that went viral, as well as the backlash Trump received after the tapes where he admitted he regularly assaults women were leaked. That general society-wide reaction seemed very improbable to anti-sexual violence activists just two years ago.
---
SIGNS OF the potential for organizing a wider audience than ever are clear since Trump's election. Erin Mahoney, a member of the group National Women's Liberation in New York City, described a meeting right after Trump's victory in an interview:
In over a decade of organizing, I have never seen another meeting like this. Women were lined up around the block, waiting to get into the auditorium where we held our meeting. Hundreds fit inside, and several hundred more had to go to a nearby park and hold a meeting outside, using mic check.

Women testified about being sexually assaulted and what it meant to have a president elected who spoke openly of assaulting women. Women with disabilities spoke about fears they had going forward in terms of funding and health care. Women from immigrant families testified about fear, whether their families were citizens or undocumented.

Many talked about the power they felt getting involved in the movement for the first time, and committing to persist and build something that could last.
The Women's March on Washington is an opportunity for our side to come together and rebuild its strength. While there is a lot of work to be done to organize the kind of resistance we will need to not only push back Trump but start to win the demands that will make women's lives better, our side is stronger when we build solidarity and connect our struggles together. As Smith said:
The anti-Trump protests right after the election were uniting a number of different demands, including women's rights, immigrant rights, the rights of Muslims. So hopefully we'll see that continue. This is a relatively new development, in which there is a sense of solidarity between different types of movements.

There will be a Women's March on Washington on January 21 that promises to be quite large and states clearly that the organizers are in solidarity with all oppressed groups, particularly racially oppressed groups. That leaves me feeling very hopeful, as frightening as it is to have Trump in the White House. There's also a resistance brewing, because the majority of the population is against overturning Roe v. Wade.