Did solidarity trump the NFL owners?
October 24, 2017
"Take a knee" protests in the NFL continued last weekend, despite the tirades of Donald Trump, who wants players who won't stand for the national anthem to be fired. Negotiations took place last week between the team owners and league officials, the NFL Players' Association and high-profile players. TheNation.com sports editor Dave Zirin examines the outcome--and considers what supporters of the NFL players should make it all.
AS WE attempt to understand the meeting between many of the leading activist athletes in the NFL, the Players' Association, and franchise owners on Tuesday, October 17, as well as NFL Commissioner Roger Goodell's train wreck of a press conference on Wednesday, it's important to remember where we started.
In the summer of 2016, Philando Castile and Alton Sterling were killed by police in Minnesota and Louisiana, respectively. Their deaths were videotaped, and the footage went viral. People mourned. People raged. People protested. And, starting with San Francisco 49ers quarterback Colin Kaepernick, NFL players--in a historically unprecedented fashion--joined this fight. They took a knee or sat or raised a fist during the playing of the national anthem precisely to make people--fans, sponsors, media, team owners--uncomfortable and raise awareness. Now, after 14 months, what do we know?
Kaepernick might have sacrificed his career for this movement. The other players who either took a knee with Colin last year or started this year have received death threats. They've lost sponsors. They've been threatened with suspension by team owners. They were mocked by sports-media hucksters, who laughed at the thought that they were accomplishing anything. They've had their jobs imperiled and been cursed by a president who, despite his own behavior, has the nerve to lecture people about patriotism. Yet they still persevered. And what did it get them? This week we found out.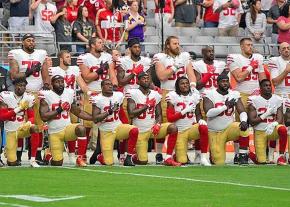 ---
FIRST, BEFORE the meetings had even started, Roger Goodell co-signed a letter on NFL stationery with Seattle Seahawk Doug Baldwin that was sent to the U.S. Congress in support of a bill called the Sentencing Reform and Corrections Act of 2017. The bill would reduce minimum sentences for nonviolent drug offenders. The letter read:
Over the last two seasons, one particular issue that has come to the forefront for our players and our teams is the issue of justice for all...These expressions of player advocacy aptly capture the challenges we currently face as a nation--ensuring that every American has equal rights and equal protection under the law.
It's hardly radical legislation, but in the era of Jeff Sessions and his dreams of an extra-strength New Jim Crow, it matters.
Then, at the meeting between Goodell and a select group of team owners, no changes to the rules were made to coerce players to line up, helmet in hand, for the playing of the national anthem, much to Trump's Twitter rage. NFL owners are now basically acknowledging that Trump's call to "force players to stand for the anthem" would cause a full-scale rebellion. This was a victory: an affirmation both of what's in their collective-bargaining agreement and of their First Amendment rights.
Players also received promises of financial commitments from the NFL for their social-justice work. No dollar amounts have been named, but Doug Baldwin has described it as "significant." The protests, as well as the sight of Nazis in his hometown, also inspired anthem-protest supporter Philadelphia Eagle Chris Long to donate his entire salary for the year for scholarships for underprivileged youth in Charlottesville, St. Louis, Boston and Philadelphia.
Lastly, these protests have helped launch a new organization to aid athletes in political and community endeavors, called Athletes for Impact. Michael Bennett of the Seahawks is a part of it, as are basketball players Maya Moore and Diana Taurasi, soccer star Megan Rapinoe, former NBA player Baron Davis, and others.
I spoke with Jesse Hagopian, a Seattle teacher who is working with Michael Bennett and Athletes for Impact to bring this advocacy into education-related issues. He said:
When Colin Kaepernick began his protest against racial injustice and police brutality, it launched a new phase of the movement for Black lives. This movement has found an organizational expression in Athletes for Impact that has begun organizing athletes--women and men, LGBTQ, youth, and others--from many different sports in an effort to utilize the platform of professional athletes to support movements for social justice.
---
IT IS easy to be cynical about this, especially after Goodell's press conference on Wednesday. That was painful, with Goodell just ignoring questions about what he would do if a player were suspended for protesting. He also said, "I understand how our fans feel about this issue, and we feel the same way. Players should stand for the national anthem." The implication is that fans are of one mind on this issue, but polls actually show that fans are split, with the racial divide being particularly sharp. Goodell basically said, "The concerns of our white fans are foremost on my mind."
But his most cringe-inducing moment was when he preached, "We have about a half-dozen players that are protesting...We're going to continue to work to try to put that at zero."
First, it is more than "half a dozen," but the statement in and of itself is vile, basically saying, "We don't care about any of this, we're just trying to shut this down without causing a full-scale player's revolt." Number one on Goodell's agenda is clearly a sponsor- and owner-driven effort to restore the image of the NFL as a place where players shut up and play. But his whine is not going back in the bottle.
Roger Goodell has earned our cynicism, and it's understandable why people think that this is all a sham aimed to end this protest. But while these owners and Goodell have more than merited our distrust, I would argue that this is the wrong way to understand what has happened. Instead, go back to the killings of Castile and Sterling. NFL players--despite their non-guaranteed contracts, short careers and precarious employment--organized and have now wrested financial and political concessions from 32 of the most conservative 1 Percenters in the country.
That Goodell was so awful in his press conference is a testament to the odds these players faced in taking this on. And several of the leading activists--like Michael Bennett, Philadelphia Eagle Malcolm Jenkins, and San Francisco 49er Eric Reid--are still going to protest, because they understand that, while the players have won a victory, the war is far from over. Trump will still vent. His minions and bots will still send death threats. Players may even still be suspended, although I hope any who are sue the league back to the stone age. But what has happened thus far has been a victory. It's still a limited one, and it will be as long as Colin Kaepernick remains on the outside looking in.
I think the first step to even being able to even have a conversation is making sure that Colin Kaepernick gets an opportunity to play in the NFL. Before we even negotiate anything about whether we sit or whether we stand, there should be a negotiation about opening up the doors for Colin Kaepernick and give him an opportunity again."
This is truth. But it is still a victory nonetheless. And these days, that must be appreciated, replicated and even savored.
First published at TheNation.com.