It takes a profit system to raze a "Village"
February 7, 2017
David Judd reports on the destruction of a homeless encampment by Oakland officials--a grim reflection of the rotten priorities of the city's supposedly liberal leaders.
ON FEBRUARY 2, Oakland police tore down the Village, an encampment for homeless people set up in a park two weeks earlier by homeless residents and activists.
Citing "18 health, safety and fire code violations," including lack of permits, the city destroyed the camp's small wooden homes, returning the area to use as a park. Camp organizers responded in a short Facebook statement: "The crisis is our permit. The code we follow is humanity."
A major part of the housing crisis in Oakland and the entire Bay Area is a crisis of homelessness. As of the last systematic count in 2015, 4,000 people were homeless in Alameda County, and tents seem only to have proliferated since then.
On January 21, activists with Feed the People and Asians for Black Lives set up the encampment in Marcus Garvey Park at 36th Street and Martin Luther King Jr. Way. "The encampment is not meant to be a permanent solution," they declared in a statement, "but addresses the immediate needs and harm reduction of some of the City of Oakland's more than 3,050 homeless residents."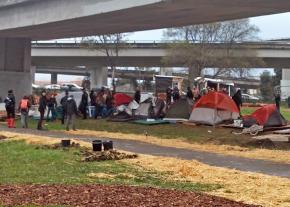 Red, one of the Village's residents, said in an interview before the camp was removed: "I'll take a stand. We may not win, we may not get to keep this park, but we'll have tried. We'll show the people we can do it where the city can't."
The encampment consisted of a small number of tiny single-room homes--built out of plywood and wooden cargo pallets, constructed by residents and amateur volunteers under the supervision of a few people with experience in carpentry--together with a portable toilet and shower.
Hot meals were served daily by volunteers. Red said the project "restored my faith in people." Rory, another resident, said, "They call this place the promise because so much is being promised. And so far people are delivering on the promise, all the volunteers and organizers."
Red was a painter and was retired before he lost his house. He's been homeless since 2010. He used to live in San Francisco, but said he moved when Mayor Ed Lee "declared war on the homeless" a year and half ago, increasing police harassment.
Rory, meanwhile, explains that he was "a licensed physical therapist and massage therapist back in the '90s. The police took it away from me after I was raped by them."
Red believes the crisis of homelessness has deepened since his first nights on the streets. In 2010, he says, "there were one or two encampments, a few people under the bridge...Now you can't walk down the street without seeing tents. Anywhere in Oakland, you're within a three-block radius of homeless people's tents."
The reason for the change, he says, is "our economy...One bad decision, and you lose everything; it doesn't take much. Back in the day, you could recover. Nowadays, it's dog-eat-dog."
---
OAKLAND POLITICAL leaders have a carrot-and-stick strategy to clear homeless encampments--responding with force to a direct political challenge at the Village, while being more accommodating elsewhere. As Kimberly Veklerov reported for SFGate:
Clearing the encampment at 36th Street and Martin Luther King Jr. Way was a striking change from how city staffers have approached other camps...At [another] encampment, at 35th and Magnolia Streets, city crews added portable toilets, trash bins and needle containers, then hosed down the sidewalks and left. With the deployment of counselors and other services, the idea is to get everyone into housing by March 31, then replicate the program at other sites.
But this program doesn't offer any meaningful solutions for the homeless, which shouldn't be surprising since it's an initiative of City Council President Lynette Gibson McElhaney, who has a record of using her housing "non-profit" for speculative house-flipping and using her political office to block a construction project next to her home.
As Red explains, the City's program "is not [permanent] housing, it's a voucher. They'll take you away from where you're comfortable, give you a six-to-eight month hotel voucher, then it runs out, and you can't go back. They've rousted everyone."
What little effort Oakland puts towards long-term affordable housing is reliant on private developers, and the city often defines "affordable" in a way that excludes a large proportion of Oakland's poorer residents.
Meanwhile, the police are destroying attempts by homeless people to build a solution for themselves.
"Criminalizing homeless people does not work," says Dayton, an organizer with the Coalition on Homelessness who was helping out at the Village. "When people are displaced, they just go back to their place. They lose their clothes and their belongings and their shelter. It's called the churn. It's a form of violence. Displacing people is violence."
Red argues that because city officials and NGO staffers "get paychecks as long as there are homeless," they have no real interest in ending homelessness. Dayton goes further, arguing that the problem is systemic and is connected to the struggle against the reactionary Trump presidency:
The intersection of a lot of different systems of oppression is capitalism. At the end of the day, who is going to be the most exploited is going to be the people with disabilities... The homeless black transgender women who are dying in the streets... It's the homeless disabled people who will see the immediate fallout of the new administration.
The experience of the Village shows that solutions for homelessness are not impossible, and that homeless people are capable of building community. But to give those solutions the resources they need and to end the violence of displacement, we need to challenge a system that prioritizes profit over humanity.