and
Why is Columbus rising up?
February 8, 2017
How we engage with a newly radicalizing generation of protesters will determine how effectively the left is able to move forward, explain Sarah Mamo and Coco Smyth.
THOUSANDS HAVE resisted Trump's right-wing agenda in the past two weeks in Columbus, Ohio. People of all sorts--Arabs and Muslims, women and men, immigrants rights activists--have come out to protest in opposition to the unified onslaught waged against a variety of oppressed groups.
The burst of recent protests in Columbus deserves special attention for a few reasons. One, they involved many people participating in a protest for the first time. Two, each individually would be one of the biggest protests in recent memory, but several big protests taking place within a couple of weeks of each other is truly remarkable.
Lastly, while each rally focused on a particular issue, people also raised a wide array of social and economic issues at all of them, indicating that the cause of justice can be highly contagious. Columbus' recent turnout is part of a sweeping wave of protests resisting Trump not only across the nation, but worldwide.
---
FIRST IN the flurry of actions was Columbus' Women's March, occurring a week prior to the national march in Washington, D.C.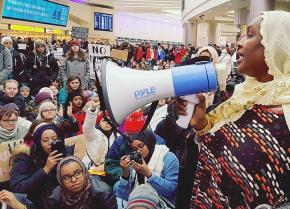 The event, which drew nearly 2,500 and was probably the biggest to date, was organized as a march, but was essentially a rally. Despite the large turnout, the organizers called for 30 minutes of silence and then told people to disperse, turning what could have been an exciting protest into a missed opportunity.
Nevertheless, the event had several encouraging aspects. Like the march in D.C., the crowd was mostly made up of liberal and progressive women, but it also included many families and children. Unlike many rallies that attract a predominantly young audience, the participants in this event spanned generations. And it was also evident that this was the first protest ever or for the first time in a while for countless people in attendance.
Despite the fairly tame politics projected by the speakers, the protest itself showed how much organic solidarity is being forged by Trump's simultaneous attacks on multiple oppressed groups. Signs stating "Water is life" in support of the protests against the Dakota Access Pipeline at Standing Rock and "Black Lives Matter" were seen in the crowd, indicating that many people were looking to forge bonds of solidarity and connect up their own issues with various other struggles.
Two weeks later, on January 29, the Palestine Solidarity Group in Columbus organized an emergency protest against Trump's executive order banning immigrants from majority-Muslim countries. With just one day's notice, more than 1,000 people gathered outside of the airport, blocked off the highway and shut down the terminal for more than two hours, culminating in a sit-in inside the airport.
The protesters embraced many radical chants, such as, "From Palestine to Mexico, these border walls have got to go!" and "No hate, no fear, immigrants are welcome here!"
To the surprise of the crowd, Ohio's Sen. Sherrod Brown and Rep. Joyce Beatty attended the protest and spoke in support of the mobilization, promising to stand against Trump's agenda.
Their presence stirred mixed feelings among protesters. On the one hand, they brought the event a certain kind of mainstream legitimacy in the eyes of the media and even many protesters.
But while they are both considered progressive Democrats, it was particularly ironic that Rep. Beatty found herself speaking at a rally organized by the Palestine Solidarity Group. Just last year, she issued a statement condemning the boycott, divestment and sanctions (BDS) movement to demand Palestinian civil rights in an attempt to dissuade the Ohio State Undergraduate Student Government from passing a non-binding BDS resolution.
One day later, on January 30, more than 3,000 people again gathered to protest Trump's anti-immigrant executive orders.
This was the largest rally Columbus has seen in a number of years, and it pulsed with a militant spirit. The energy at the event, which had been called by Socialist Alternative Columbus, was infectious and led to people again taking the streets and chanting with enthusiasm in solidarity with oppressed peoples in the U.S. and around the world.
After a brief speakout, the crowd began to march, eventually spilling from the sidewalk onto High Street, a major road in Columbus. Even though the event had 3,000 in attendance, the Columbus Police Department's (CPD) presence was scant, and they were seemingly caught off guard and unable to prevent the crowd from taking the roadway.
Once High Street was shut down, more police arrived en masse, and they became more aggressive. CPD tried futilely to push protesters onto the sidewalks with their bikes and obnoxiously blared their sirens, unable to drown out the chants.
The protest ended in a spontaneous and nonviolent occupation of a low-traffic street corner. A majority of the occupying protesters were people of color.
Regardless of their peaceful occupation--which many passing cars honked in solidarity with--CPD felt it necessary to move its sound canon into place and mobilize nearly all of its officers. As the crowd dwindled, police pepper-sprayed those who remained--and then denied medical attention to people writhing in pain after being sprayed during a peaceful protest! Of all the rallies, this had the most aggressive police presence.
---
IN RECENT years, police in Ohio have killed three Black men or boys--Tamir Rice, Ty're King and John Crawford III. It must be acknowledged that the recent wave of protests mobilized more people than demonstrated against these police murders. So what's the difference between then and now?
Chiefly, it's that Trump's assault on the entire working class has been so brazen that masses of people feel compelled to mobilize and resist. Although we still have far to go, the left in Columbus is more organized now than when police claimed the lives of Rice, King and Crawford.
At all of these actions, organizers were forced to change their strategy and tactics to fit the mood and the militancy of the crowd. The transformation of crowds from hundreds to thousands and the willingness to engage in direct action, even with mixed political ideas, has opened up new possibilities and modes of resistance that were previously unthinkable in Columbus.
However, the specter of the Democratic Party hovers over the movement, waiting for the opportunity to co-opt and reorient the movement to suit its own priorities. While the left attempts to keep the pressure on Trump by mobilizing the biggest possible grassroots opposition to him, the Democratic Party hopes to tap into this energy and divert it into electoral campaigns.
Trump's election has given many people their first taste of the power of protest. A surge in the number of protesters is directly correlated to the fact that people who've never considered themselves activists or radicals are joining together with the left in the face of a common enemy: Trump.
Given this newly radicalizing and large audience, it shouldn't be surprising that some people still have contradictory and even some backward ideas. Keeping in mind that for many this is a series of first encounters with protests, it's critical to refrain from chastising those just now joining the movement who are enthusiastic about getting involved.
This is what the seeds of a future revolutionary consciousness look like. How we relate to their growth and organize ourselves will be crucial in bringing this consciousness come to full fruition.